Unified supply chain planning

for food and beverage consumer brands
RELEX helps food and beverage consumer brands and manufacturers reduce food waste and excess inventory while improving goods flows with a supply chain management solution that accurately and efficiently anticipates demand.
Impressive results from our customers
30%
reduction in food waste
15%
reduction in inventory carrying costs










Address your biggest
food and beverage supply chain challenges
Food and beverage brands must meet fluctuating demand, maintain service levels, and avoid waste while working with a complex supply chain that includes promotional, seasonal, and short shelf-life products.
Lack of visibility into demand
Food and beverage brands need visibility into both rapidly changing consumer preferences and retailers' commercial strategies to avoid excess inventory, waste, and lost sales.
Fresh products with short shelf-lives
When perishable stock doesn't reach consumers in time – particularly during a season or promotion – it can spoil or go to waste, which is bad for business and the planet.
Supply disruptions and scarcity
Unanticipated supply disruptions and shortages can make it difficult to fulfill customer orders, leading to lost sales, a hit to a business's bottom line, and an inability to meet consumer needs.
Workforce turnover
To combat high labor costs, workforce shortages, and tight budgets, businesses need to prioritize the retention and efficiency of their planners and operations employees.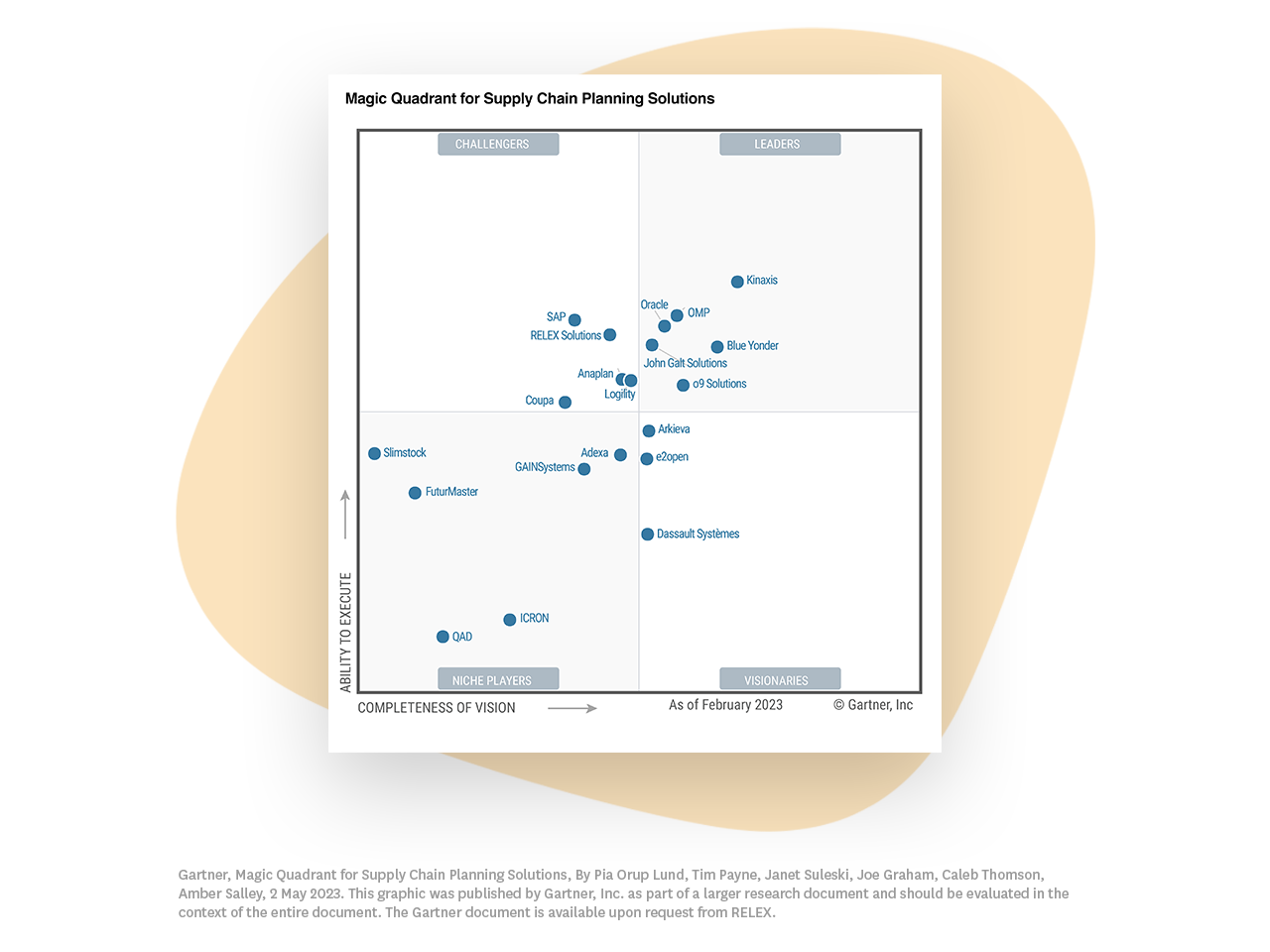 Gartner® Magic Quadrant™ for Supply Chain Planning Solutions
The Gartner® Magic Quadrant™ research analyzes supply chain planning (SCP) solutions providers – among these RELEX Solutions. "This research helps supply chain technology leaders when evaluating and selecting software tools to enable their SPC maturity progression."
Inspiring stories
from customers like you
Optimize food and beverage
supply chain planning
RELEX improves the accuracy of both short- and long-term supply chain plans while automating demand and inventory planning, optimizing distribution and inventory, minimizing food waste, and improving service levels.
Stay in control of demand
AI-driven demand sensing based on retail data helps food and beverage brands make more informed commercial decisions that support the business's goals and reduce waste.
Cut spoilage & maximize freshness
Manage inventory by automatically considering spoilage risk and batch-level expiration dates to minimize waste, maintain service levels, and ensure freshness.
Automate forecasting and inventory planning
Smart automation can streamline routine demand, inventory, and distribution planning processes, giving staff time to focus on exception management.
Improve efficiency
Optimize the goods flow with demand-driven distribution and inventory plans. RELEX automatically adjusts plans to mitigate shortages and capacity bottlenecks.
Resources you might be interested in
Would you like to know more?
We're happy to discuss your supply chain & retail planning needs and share how the RELEX platform will make your operations more data-driven, autonomous, and adaptive.
Request a Demo