Let me give you a couple of supply chain buzzwords for 2017; 'Amazon' and 'Customer-Centricity'. Neither should be a huge surprise.
Amazon has been the retail and supply chain story of 2016 but also for much of the previous decade. It has been growing almost exponentially with its revenue curve steepening sharply from the middle of the last decade so that in 2015 it turned over some $107Bn. In 2016 it even made it to the list of top 10 biggest retailers in North America. However, its margins are slim mostly due to their R&D spending. As CEO Jeff Bezos has said, he doesn't believe in "bet-the-company" bets. Instead he believes in constant innovation and continual investment into new opportunities. Indeed he's lost billions investing in what turn out to be dead ends just so he never has to make a "bet-the-company" bet – because those are made by businesses where innovation has come too late and they've run out of alternatives.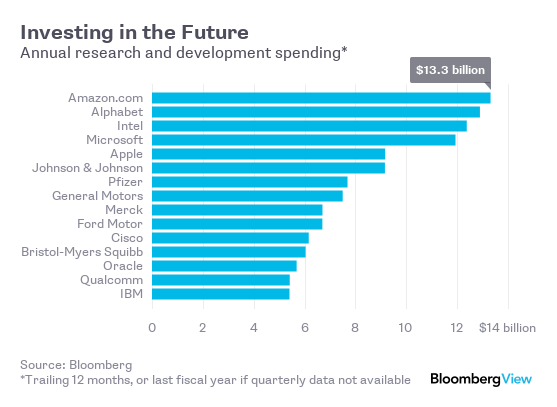 Source: Bloomberg
What it's doing in the meantime is changing retail and it's doing it in large measure by fundamentally shifting consumer expectations onto territory where it's the only one capable of fulfilling them and it is doing so by creating that territory itself.
For instance, Amazon's drone delivery experiment. There are lots of regulatory hurdles to be cleared before it becomes a widespread reality and such political hurdles are probably higher than the technological ones. Then there's Amazon Go – checkout-less shopping where customers check-in with their phones and cameras, and RFID systems track what they take away so they're automatically billed. And there will be more innovations, lots of them. And some of them will stick.
It all begs the question – how can other businesses compete?
It all begs the question – how can other businesses compete? And compete they have to because while Amazon hasn't been generating mega profits it has been stealing market share and piling on share value, while traditional retailers, especially in North America, have been struggling. That leads me to my next supply chain buzzword of 2017; customer-centricity.
Customer-centricity is sure to be a major topic of conversation at this year's NRF. There are several must-see talks on the topic. RELEX will feature in at least one: Mari Nenonen, Supply Chain Manager at Marimekko & Bill Crayton, VP of Merchandising at LifeWay Christian Stores, (both RELEX customers) will be talking about 'Customer Centricity – A new paradigm for inventory optimization' (Tuesday 17th January 1.30pm-2.30pm – Expo Room 1 Level 1). NRF CEO Matthew Shay, and Walmart Canada's Rick Neuman, are also likely to share their thoughts on customer centricity (details below). RELEX will be there too.
You Against the Mighty Amazon (Keeping Your Head above Water and Avoiding Piranhas)
If Amazon has built a particular sort of customer experience, and if its investment in technology and infrastructure has made it hard to compete on its territory, then other retailers need to stake out turf on which Amazon can't easily compete and fight it there.
Amazon, as a corporation, may be all about deferred gratification but its offering isn't. Quite the opposite. It's about instant gratification through availability and fulfilment. And, yes, it's also about price.
But Amazon isn't personal. On the contrary it's highly impersonal. Yet human beings are social creatures and in many ways modern technology is depriving us of much of the human contact and interaction that we crave. Being able to walk in and out of an Amazon Go store will probably be very efficient but it might also be very lonely.
Retailers looking to offer what Amazon does not should look to personalization, which is another way of saying 'customer-centric'.
This can come in many forms. It can mean tailoring assortment, store layout and presentation to the tastes and needs of the customers that use a particular store. It can mean stocking products that no one else offers. It can mean having staff on hand to help, suggest, smile, share a joke, to recognize customers, remember their names and, in short, care.
Technology can't care for you, but it can help you do so. It can give you an acute ear to listen to your customers.
Technology can't care for you, but it can help you do so. It can give you an acute ear to listen to your customers; studying their shopping habits through data and breaking it down day-by-day, store-by-store so you know what to stock and when. It can automate replenishment, space and assortment management so your people have more time to spend shaping the customer experience.
Your buying team will be able to spend far less time on routine reordering and far more on forging relationships with suppliers and seeking out new products that will really please your clientele. Your store staff will spend less time on ordering and stacking shelves and far more talking to and helping customers.
Yes you'll need to compete on availability and quality, but technology makes that far, far easier. You can do the rest. Did anyone ever have an Amazon experience where they felt cared for? Special? Loved?
That's your territory. Stake it out. The battle can be won.
Meanwhile, for those of you visiting NRF Retail's BIG Show don't forget to come and see us at Booth 830 – Level 1 – and do put these highlights in your diary to learn more about the supply chain buzzwords of 2017!
NRF President and CEO Opening Remarks: The State of NRF and the Retail Industry
Matthew Shay, CEO at National Retail Federation
Mon 16.1 8:30am-09:30am – North Hall Level 2
Walmart Delivers an Improved Customer Experience for Their Weekly Shopping Needs
Rick Neuman, CIO and EVP eCommerce at Walmart Canada
Sunday 15.1. 2.00pm – 2.45pm – Expo Room 2 Level 1
Customer Centricity – A new paradigm for inventory optimization
Mari Nenonen, Supply Chain Manager at Marimekko
& Bill Crayton, VP of Merchandising at LifeWay Christian Stores
Tuesday 17.1. 1.30pm-2.30pm – Expo Room 1 Level 1