Hello there! Are you thinking of applying for a summer job? I'm here to share a few tips with you in case you come to be a fellow RELEXian who's at the beginning of their career, just about to take their first steps into working life as I did in 2021 while working as a Summer Intern in the Project Methodology & Best Practices team.
I learned a lot about the company's culture and ways of working already in the first few months, and here are my top three dos and don'ts on how to best enjoy working and thrive at this best-of-industry, warm-hearted, and quick-growing company.
Dos
1. Be proactive, ask questions, and always be ready to learn new things
Even with our high-quality, multi-step, and continuously developed onboarding program for new employees, it is inevitable (and encouraged!) that questions will arise. That is when opening your mouth is the best option regarding everyone's time but also the creation of connections with your colleagues. When starting at RELEX, you will most likely learn a ton of new stuff varying from retail optimization and SaaS business to other cultures, as working with people from all over the world brings you closer to their habits and customs than traveling ever could. But fear not, you are not expected to learn all at once. RELEX has a very humane way of treating all employees so not knowing everything is totally accepted here. I still learn new things every week, and I recently got good feedback on how asking questions helps everyone around me, so it's a win-win!
2. Be worthy of the trust and enjoy the flexibility that RELEX offers
No one has the time or interest in observing everything you do, and RELEX trusts that employees do their work until proven otherwise. You must manage your own time and ways of working. Most of the positions at RELEX come with flexible working hours, so no matter how you schedule your day, as long as you come through with your work, show up for the meetings you are supposed to, and you are reachable, all parties are happy. The flexible working hours put a great deal of trust in the employee, but so do the other cool things that RELEX offers. The offices, for example, have fridges full of beverages and healthy snacks to keep all employees' energy levels on point, and storages containing enough office supplies varying from good old school post-it notes to headsets and keyboards for employees to equip their home offices with the full arsenal to suit the needs of the present day.
3. Embrace the company's fast pace and ability to change
Even though RELEX is an international 1,000+ employee company, it still has ears to listen to each and every one of us. There are often opportunities to switch positions inside the company, and even the positions themselves aren't set in stone, meaning that responsibility areas can be altered based on your interests. Many RELEXians have taken on new responsibilities or changed their roles entirely, for example from operations to product development, as our growth constantly opens new opportunities. You are always welcome to bring your own ideas to the table, and who knows, perhaps you'll even end up creating a whole new role for yourself!
Don'ts
1. Don't sell yourself short
Even though RELEX aims for humble world domination, it's good to distinguish the difference between being humble and undervaluing yourself. Value yourself the way you want others to value you. When doubting "am I good enough?" trust the system and remember that they hired you. They want you, your skills, and your knowledge. You are valuable. RELEX doesn't do stupid things and always aims at adding value. Keep that in mind and do your best; that's all anyone can ask for.
2. Don't hesitate to send a message to anyone in the company
At RELEX, hierarchy is very non-existent, so don't be afraid of contacting people from the "higher level" of the company. By the time I had been in the company for three months, I had already contacted many C-level people and two out of the three founders. RELEX speaks of itself as a family, and isn't it so that as a newborn, it's okay to need and ask for a parent's help? A fun fact: when starting at RELEX, each new employee sends an introductory email for the whole company as a part of the official onboarding procedure. Often, when a newbie tells about their hobbies, someone sharing the same interests replies, which is a great way of getting to know your colleagues even if you work remotely.
3. Don't be passive
Things only happen when you make them happen. Send the message, invite your team out for drinks after work, or ask a fellow newbie for lunch. You shouldn't worry about the answer; you can only do your part, and that is enough. And I must say, I've never gotten just a "no" for an answer, but rather, if the schedules don't match, then a new time is proposed or something else planned. Last autumn, I got an opportunity to organize our team day with my colleague, and we had free rein to plan anything we wanted with the budget. I volunteered to choose the restaurant, and we ended up going to one that I'd wanted to go to for a long time. So, I would say that everything is possible when you have a positive mindset combined with courage and some organizational skills.
Fast-forward six months, I'm still working at RELEX, now as a Development Coordinator, and I'd say the same dos and don'ts still apply. I feel challenged and supported to become better and progress already in my early career. And that is to thank the colleagues and the company culture, which both combined with the exciting business and the fast growth pace make working at RELEX interesting, inspiring, and fun all at the same time.
I sincerely encourage you to apply because I can't think of any better company to start one's career at. A warm welcome and good luck with everything ahead!
---
Written by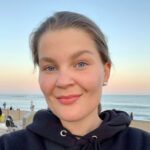 Netta Punkanen, Development Coordinator
Netta currently works part-time in our Project Methodology & Best Practices team and will continue full-time after her graduation in May. She likes spending her free time either sweating at the gym or lounging on the sofa. She believes finding a balance between all things in life is the key to happiness.