We are so excited to celebrate Pride this month. This is a time of celebration but more importantly it is a time of reflection, progress, and forward movement. This does not just come by proudly sharing our rainbow logo in June, but by making diversity, equity, and inclusion (DE&I) a priority all year long.
We are a value-driven company, and our values have guided us to embrace and appreciate diversity ever since the day we were founded in 2005. In a recent employee survey, we got a score of 9 on a scale of 0-10 for the statement "People from all backgrounds are treated fairly at RELEX." However, we are by no means ready yet and feel that simply having a great value base in place is not enough. We must actively recognize privilege and areas where we could be better, and proactively provide additional resources, processes and support for different DE&I initiatives and conversations.
So, where do we start? How do you create an environment where everyone can feel comfortable, celebrated, supported, and heard? We decided to start in one of our largest and fastest growing countries, the United States. It is so important that we approach such impactful initiatives carefully and thoughtfully, learning along the way. Our initial push here at Team US is focused in four key areas: Education, Recruitment, Support, and Planning & Celebration.
Education: Finding Out What We Do Not Know
We have started by partnering with a consulting company, (SGO), to educate and advise our People and Leadership Teams; conducting workshops on DE&I Foundations & Unconscious Bias and Recruiting & Hiring Inclusively; providing education resources each month targeting a different diversity sector, often following national recognition and heritage months; dedicating time in our Monthly US Team Meeting to cover a DE&I topic; and spending time to consider and research DE&I implications of all People Team decisions and initiatives.
We are accountable for how we treat people as a company and as individuals, but we all have some unconscious biases and blind spots around diversity, equity, and inclusion. We know we will make mistakes but that is why we must continue to learn, be open to feedback and be willing to have conversations. Asking our employees regularly to provide feedback on their experience is key to keeping those conversations part of the norm at RELEX.
It can be scary and uncomfortable to face what you do not know, but we want to continue to grow and learn and be better for it.
Recruitment: Bringing In Diverse Employees
Recruiting is one of the first and most impactful ways to follow through on a commitment to DE&I. It is the first step to having a diverse workforce. We have started by reviewing our hiring process with the consulting company, making sure that we have diverse candidate pools, providing DE&I training for hiring managers, and adding diverse recruitment streams and programs such as Year Up.
At RELEX, our diversity is on par with similar companies. However, our goal is to continue to still grow our diversity numbers and have diverse representation at all levels of our organization.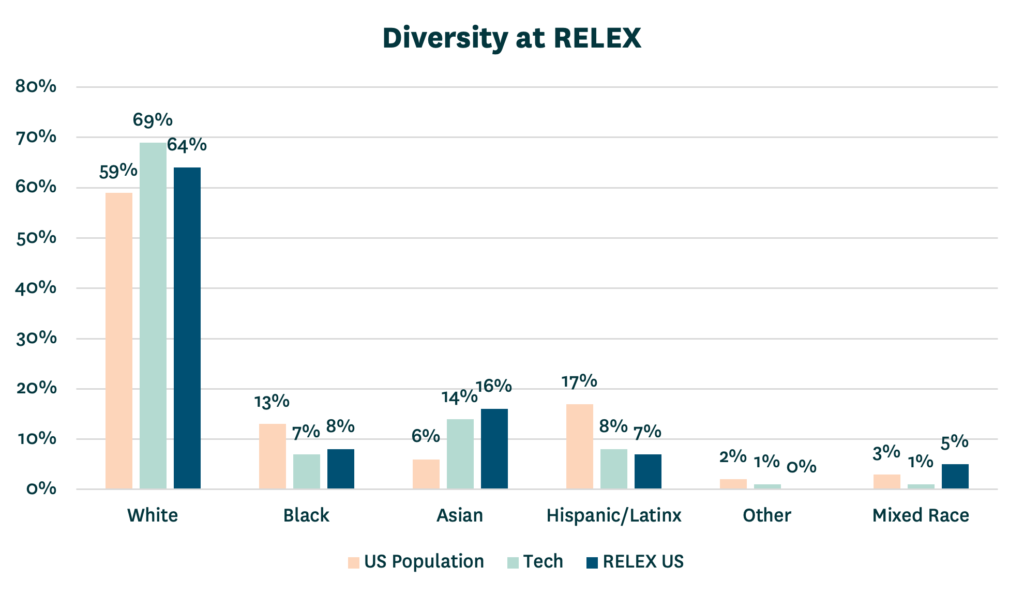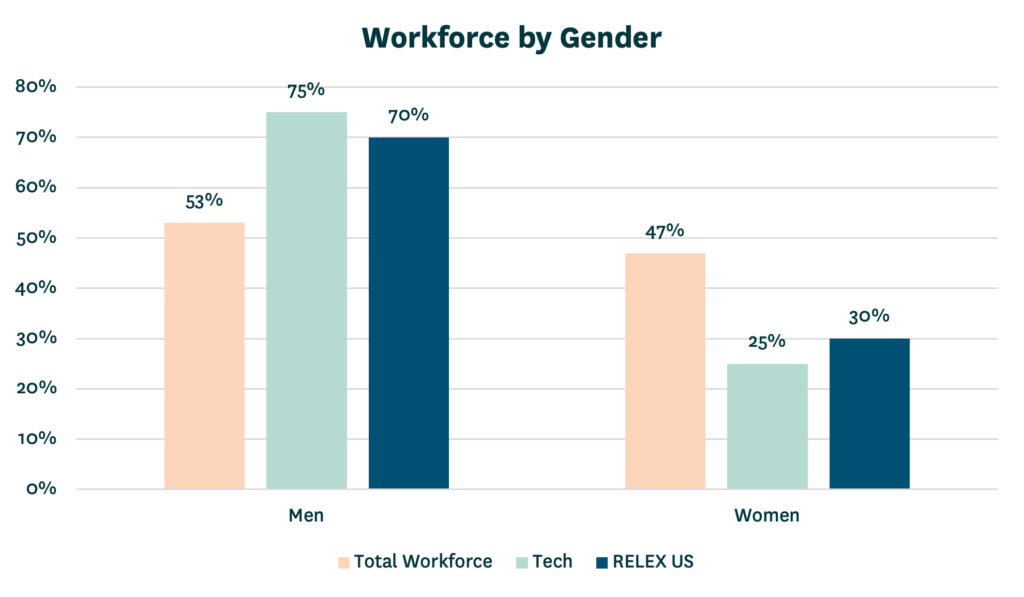 Support: Providing Unique Resources to Unique Employees
Making sure employees have a connection to senior leaders allows us to see and hear differing perspectives. We have launched a toolkit to provide employees the support and guidance in creating Employee Resource Groups (ERGs).
ERG's can provide support and community for members with common interests, backgrounds, or demographics; opportunities to present ideas, concerns or POVs to leadership and advocate for change as a united front; opportunities to work with the People and Recruiting Team to further diversify our recruiting; better cross-functional relationships; and amplification of our employees' voices.
We have an anonymous engagement interaction tool that allows employees to share their experiences in a comfortable and secure way. Leaders can learn from their team members to ensure there is inclusivity and fairness, without the employee feeling uncomfortable for opening up.
Planning & Celebration: Asking What Is Next and Welcoming What Makes Us Different
We are starting by changing the way we think about culture. We are building off of our foundation of cultural values, identifying cultural focus areas, and considering DE&I in each area to achieve the ultimate goal of helping everyone at RELEX thrive where they work. We actively need to keep this top of mind, now and in the future: how can we improve? What areas are we missing? What else can we do to better serve our employees and community?
We have started by launching an initiative called RELEX Celebrates, where we have chosen a different group to focus on and celebrate each month. In 2021 we have celebrated Black History Month, Women's History, Asian Heritage Month, Jewish Heritage Month and now Pride Month. We are excited to include other groups such as our RELEX Parents.
We want to continue to be an environment where everyone feels that they can bring their whole selves to work. This is a commitment to spend some time – and sometimes money – each month to recognize and explore the value of our differences. These differing experiences are an asset and should be celebrated as such.
Just the Beginning
These four strategies are only the beginning.
I admit that at times I feel overwhelmed and underqualified. I am afraid of saying or doing the wrong thing: DE&I is complicated, and there is no four-step answer to creating a perfectly diverse, equitable, and inclusive workplace. This is not a journey with a distinct end. It is more like a fine craft that needs to be learned and honed.
In the coming months, we will take the approach described above into global use across all of our locations. I hope you will join us in taking advantage of learning opportunities, looking for diverse candidates, forming or supporting an ERG, asking what is next and how to put your knowledge to use, and celebrating your colleagues. I promise that you will be glad you did.
Let's get to work.
---
Written by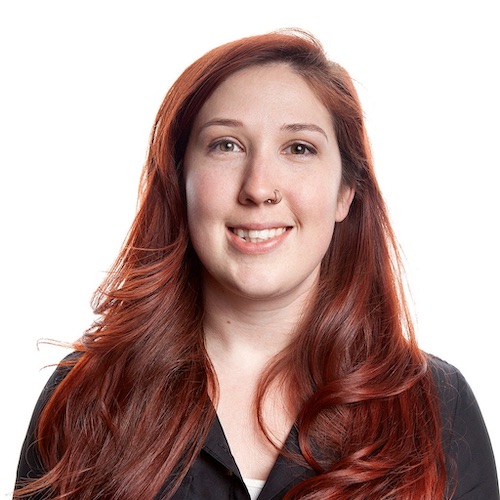 Kristen Hennessey, Sr. HR Specialist of People and Culture
Kristen has held many roles on the People Team but is now focused on helping all RELEXians thrive where they work. Her work includes DE&I initiatives, employee and manager support and culture activities. Outside of work she enjoys being creative and crafting with her cats and dog.