In this blog series, RELEXians from various tech teams share their daily life. We wanted to know, for example, what their work consists of, what technologies they use, and how they would describe their teams. Next up is Satu from our UX team!
How did you end up working at RELEX?
I have a master's degree from Information Networks Program at Aalto University. Before joining RELEX, I spent four years working with Silicon Valley-based companies in the cryptocurrency and gaming industries. When I was interviewing with RELEX, I was impressed by the ambitious vision and the team atmosphere. Some of my friends have also worked at RELEX for a long time, and I have seen how much they've enjoyed it here! Starting a new job can be kind of scary, but RELEX truly made the process as smooth and easy as possible.
How does your typical day at work look like?
I'm leading the UX team, so plenty of my time is spent facilitating the work of others and making sure everything is running smoothly. It involves prioritizing and delegating work, making sure the team is happy and connecting with different parts of the company. Also hiring is a big part of my work as the team has been growing so fast this year.
What kind of technologies do you work with?
In the UX team, we work with Figma as our primary tool for designing and prototyping. For analyzing and organizing our user research data, we use a tool called Dovetail. We're also using Styleguidist to visualize our design system, and the components themselves are implemented using React and TypeScript. Even though we are happy with our current toolset, we are constantly exploring new tools and trying to improve our processes.
How would you describe your team and colleagues?
As a team, we are super collaborative, as we love to give and get feedback, and we team up to tackle bigger projects together. We come from very different backgrounds – startups, big product companies, and agencies. We aim to use all of this collective experience to build products that have the best user experience in the whole SCM industry.
Creating high-quality UIs for our products is not only important for our UX team, but also for the whole organization. At RELEX, UX design is valued and continuously invested in. Through user research, we can provide valuable customer insights for the decision making in our product organization.
One thing that I really like is that our team has a great relationship with the customer-facing part of our organization. Because of this relationship, we can meet our customers regularly for user research purposes and also get tons of UI feedback from our internal users. As many of our employees use RELEX in their day-to-day work, we can easily organize internal user tests for every phase of the design process, even for the smallest projects.
As a small and adventurous team, we always tend to do something unexpected for our team activities – this year, we have tried alpaca agility and explored Helsinki archipelago on a sauna boat.
What have you learned at RELEX?
RELEX has been an awesome place for me to develop both as a designer and as a team lead. I've got tons of freedom and responsibility. Every day I'm experiencing something new and tackling things I've never encountered before.
When I started, I was completely new to the supply chain management and the retail industry, so the first six months were basically a deep dive into the industry. Everyone has been really helpful, and I've been positively surprised by how complex, interesting, and high-tech the SCM industry is.
To whom would you recommend working at RELEX?
If you are a friendly self-starter with tons of energy and ideas, you will fit right in.
---
Written by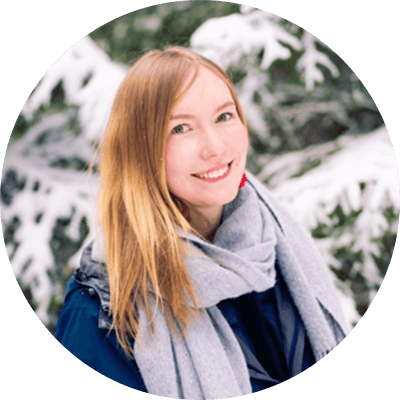 Satu Peltola, Head of UX
Satu leads the UX team at RELEX. She loves thinking big, collaborating with developers, and getting to know new people. On her days off she is the happiest when she has a good book in one hand and a cup of coffee in the other.