The employees at RELEX Solutions, a fast-growing SaaS company, develop impressive technological solutions that improve the efficiency for food retailers and their supply chains. With these solutions, clients are able to significantly reduce their food waste.
The technical solutions RELEX offers help retailers optimize their stock levels according to demand, ensuring they have the right amount of goods on their shelves at the right time. This improves competitiveness, but also decreases the amount of food they waste, positively impacting the fight against climate change.
If you were to describe RELEXians working toward a shared goal in just one word, it would be problem-solver. "We solve our clients' problems together with them. The operational environment causes rapid changes in supply chains: stores are opened and closed, new products are launched, and consumer behavior is constantly changing. We treat our customers as our friends, and the mutual trust helps us create impressive results," says Emma Aidanpää-Salmi, Operations Director, Finland and Baltics.
Reasonable Work Without Forgetting to Have Fun
How has RELEX grown from a three-person startup to over 900 global employees working for a growing company that's managed to double in size year after year?
"The results of our work have a big impact on a global scale. Even though we're a big company, we're still not a stiff company. We don't like unnecessary processes but rather work reasonably — without forgetting to have fun. We are encouraged to raise new ideas. Our goal is to develop a software that helps retailers sell more and create less waste," says Antti Räisänen, a Senior Software Developer and team lead for the Machine Learning Development team.
A recent study backs up what Emma and Antti described. According to the study, RELEX helps its partners save more than 8,800,000 kg of food waste each year, or a CO2 equivalent of 70,000 flights between New York and Paris.
The Chance to Make Something Good While Developing Your Career
Emma is passionate about both leading and developing the people she works with and working in a customer-facing environment. She's been able to develop into new roles within this growing company: "Five years ago I started as a Project Manager, but then moved on to a Team Lead position. Now, I'm responsible for leading a part of our business. RELEX's value-based culture fits me perfectly."
At RELEX, it's easy to develop products when you find the work meaningful. Antti started his journey with RELEX three years ago and is now leading a team: "For me, the most attractive thing was that you can simultaneously develop interesting software and do something good for the environment."
This article was originally published in April 2020 in Kauppalehti Optio's Finland's Most Interesting Employers 2020 annex.
---
In the article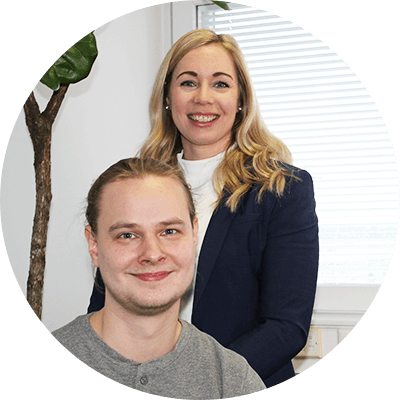 Emma Aidanpää-Salmi, Vice President, Customer Success &
Antti Räisänen, Senior Software Developer
Emma holds a Master's Degree in Economics and at RELEX she makes sure our customer facing work is being carried out in the best possible way. She describes herself as a sports fanatic, so when not working, you'll probably find her at the gym.
Antti works as Senior Software Developer and team lead for the Machine Learning Development team. He holds a Master's Degree in Process Control and Automation. Outside work, he enjoys playing the cello and piano, as well as listening to metal & rock music.