Background
S Group is a leading Finnish retail giant, which consists of nineteen regional and seven local cooperatives which are owned by their customers. It runs 1000 grocery stores across the country including convenience stores, supermarkets and hyper markets. Its market share of the Finnish grocery sales in 2018 was 46,4%.
S Group is a long-standing customer of RELEX's forecasting and replenishment solution. S Group is constantly fine-tuning its operations for greater efficiency and is keen to develop and try out new technology. Over the years, S Group and RELEX have done a lot of joint development, the most recent initiative being AI-based optimization of store replenishment schedules.
Main Delivery Days Increase Goods Handling Efficiency
Choosing the right replenishment days for products and stores is very important for a retailer's operational efficiency. Although the high delivery volumes in grocery justify daily deliveries, it does not make sense to replenish all products on a daily basis. Large, consolidated deliveries of products displayed in the same aisle of a store make in-store replenishment considerably more efficient. As more products can be shelved in one go, store associates do not need to waste time moving roll cages around the store.
To achieve this, S Group's supply chain planning team had defined so called main replenishment days per store and display group, i.e. products displayed in the same area of a store. This approach had already proven its value, but S Group's store replenishment team struggled to define the main replenishment days manually for hundreds of stores with different floor plans and demand patterns.
Tuulia Wennerkoski, VP Supply Chain at S Group says: "We spent a lot of time adjusting the main replenishment days. It worked, and the results were clear, but the approach was very time-consuming and the results still not optimal. We were thrilled about the opportunity to develop AI-based optimization of main replenishment days in collaboration with RELEX."
Swarm Intelligence to Meet Business Objectives
RELEX's AI-based optimization of main replenishment uses a swarm intelligence algorithm for multi-objective optimization. The algorithm prioritizes between objectives based on customer-specific business needs.
In some cases, the main priority can be to attain as smooth a goods flow over the week as possible. In other cases, minimizing deliveries during weekends, when labor is more expensive, can be the main priority. In addition, the optimization minimizes the number of main delivery days and expected shelf breaches, i.e. situations where deliveries do not fit directly onto the shelf.
The optimization is done per store to find the best main delivery days per groups of products – typically products that are displayed in the same part of a store – taking the products' sales patterns, shelf-life, and other relevant restrictions into account.
AI-optimized Main Replenishment Days Take Efficiency to the Next Level
S Group piloted RELEX's AI-based main delivery day optimization functionality in almost 200 of its stores during 2019. The main target for the pilot was to make in-store replenishment more efficient and more predictable.
The main goals for the pilot as well as additional benefits were achieved:
The S Group is now able to automatically optimize the main replenishment days with little manual work. The optimization is also more granular, enabling the planners to assign more main replenishment days to top-sellers compared to slow-movers within the same in-store display group of a store.
The benefits of applying main replenishment days have increased as AI chooses the replenishment days more accurately. The stores receive more of the same and similar products in one go, making in-store replenishment more efficient, without suffering negative consequences. On-shelf availability, spoilage or the proportion of deliveries fitting straight on the shelf have stayed on the same level or improved, while deliveries have become more consolidated to the chosen main delivery days.
The inbound goods flow to the stores is smoother, resulting in a more balanced workload for store staff, more predictable work shifts, and significantly fewer capacity issues.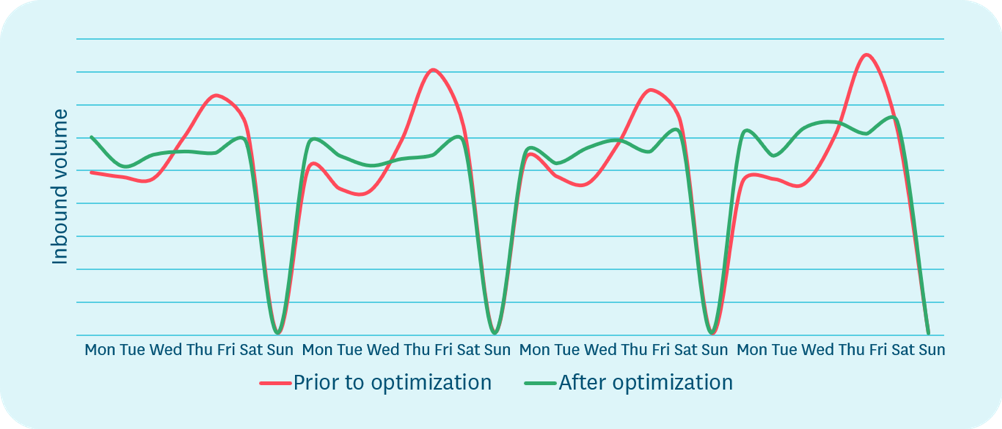 "The pilot has already demonstrated significant benefits to our store operations resulting from the automated, AI-based optimization of main replenishment days. These benefits are projected to extend throughout the supply chain as the roll-out to more stores progresses," says Wennerkoski. "The impact of a smoother goods flow to the stores is hard to quantify, but it is clear that fewer capacity issues, a more evenly distributed workload in the stores, and more predictable work shifts translate into both improved process efficiency and improved staff well-being."
S Group has currently rolled out the AI-based optimization functionality to nearly 200 stores. The company plans to continue the roll-out and develop the model further with RELEX. When the roll-out progresses, S Group is expecting notable benefits in its distribution center operations due to the improved capacity utilization following the smoother flow of goods.