Automatic replenishment and allocation solution
Slash your inventory, out-of-stocks, fresh spoilage, and the amount of time you spend placing manual orders with RELEX's automatic replenishment system.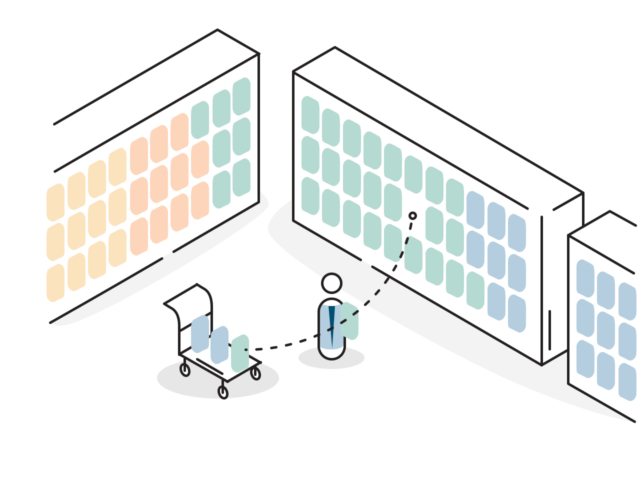 Optimize your stock levels with RELEX's automatic replenishment and allocation software
Focus on planning, not routine calculations. With RELEX's pragmatic AI and unmatched computation power, retailers can automate and optimize replenishment and allocation for even the most challenging categories — from fresh and seasonal to new and promoted products.
30%
reduction in inventory
85%
reduction in stock-outs
99+%
on-shelf availability
40%
reduction in fresh spoilage
"The results exceeded our expectations. We achieved higher on-shelf availability and very efficient centralised replenishment, allowing staff in our stores to spend more time on customer care."

Harold Op het Veld, Supply Chain Director Akademibokhandeln
Benefits
Don't settle for functional. Demand optimal.
Let your automatic replenishment system handle the routine work so your team can focus on the areas where no algorithm can match their expertise and human touch.
Efficient store and DC operations
Slash your operating expenses by reducing goods handling and transportation. RELEX's automatic replenishment system proactively balances deliveries, letting you efficiently plan your workforce shifts and transportation capacity.
Preemptive spoilage control
Increase availability and reduce costly markdowns by predicting spoilage before it's too late. Using your batch-level sell-by data, our solution automatically prompts replenishment and flags items that need to sell quickly.
Optimized allocations
Take estimates and manual work out of the equation. RELEX accurately automates tens of thousands of product allocations, optimizing your inventory throughout a season cycle — from initial through final allocations.
Accurate & efficient forecasting
Rely on our computational power to optimize and view your forecasts at any level of granularity or aggregation. RELEX's pragmatic AI can also account for the impact of holidays, promotions, or even weather forecasts.
Unified planogram & replenishment planning
Keep your shelves full and your displays tidy by unifying your space and supply chain planning. RELEX automatically flags space/demand mismatches and alerts your planners.
Intraday optimization
Accurate forecasting drives accurate — and efficient — replenishment. Support your intraday replenishment with our granular forecasts, which drill down to 15-minute windows of accuracy.
Proactive problem-solving
Identify and manage exceptions — an unusually large number of order lines, for example — before they become a problem. Our accurate inventory and order projections can help.
Productive inventory
Improve your inventory's productivity by reducing inventory while maintaining high levels of availability. RELEX can lower inventory by up to 30% — which means lower carrying costs and a better ROI for our customers.
"Our Christmas and campaign projections have improved, as has replenishment and the system responds and adapts automatically as our business evolves."

Katariina Haimi, Store Service Manager Musti Group Nordic
Features
Highlighted features of RELEX's
automatic replenishment system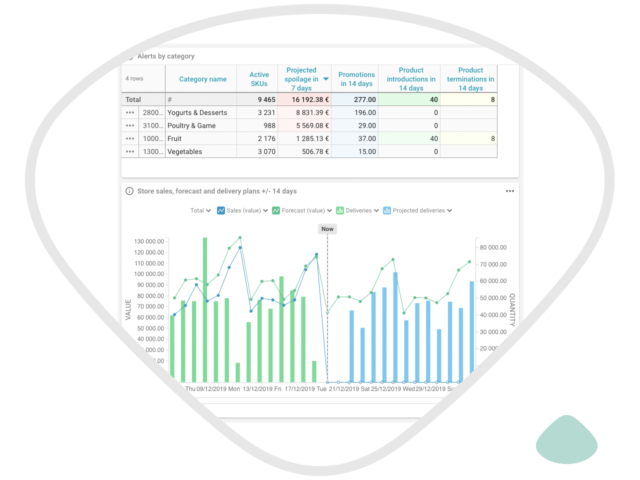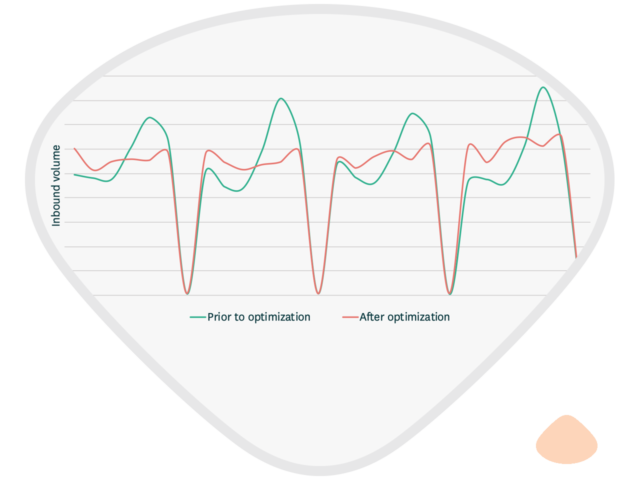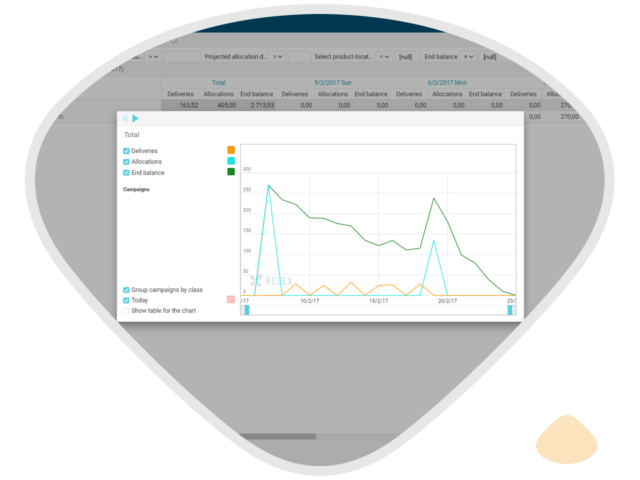 Reduce fresh spoilage by 40% with improved replenishment
Fresh products are the greatest stressors on your forecasting and replenishment processes. Turn to day-level forecasting, dynamic safety stock levels, and automatic spoilage monitoring to dramatically reduce spoilage while improving availability.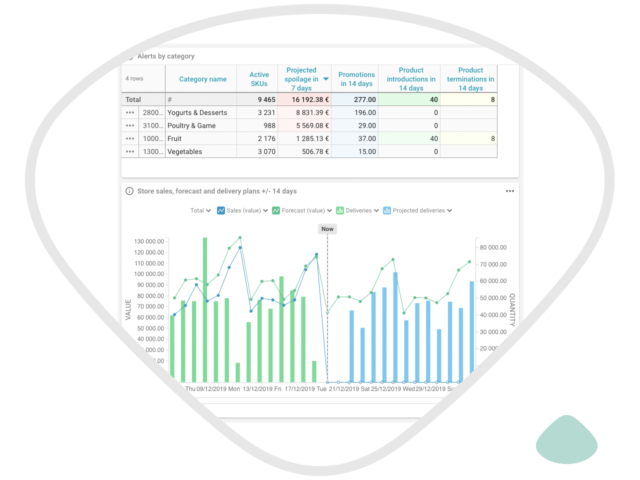 Cut shelving time by 20% with AI-optimized replenishment schedules
With optimized replenishment schedules, your store operations and employees both benefit from smoother inbound goods flow. With RELEX, you can improve shelving efficiency and balance workloads, all while maintaining up to 99+% availability.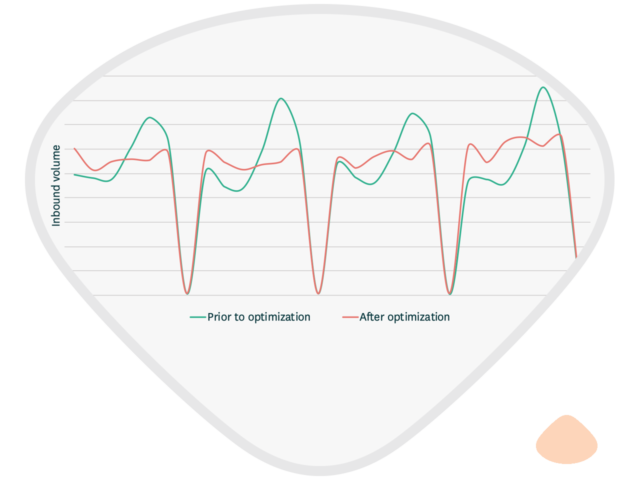 Increase sales by 7% and cut inventory by 30% with push-pull-push
Initial allocations are never perfect. But with a strategy that incorporates sales-driven replenishment pulls with season-end stock clearing pushouts, retailers can improve availability and sales while cutting inventory, markdowns, and costly transfers between stores.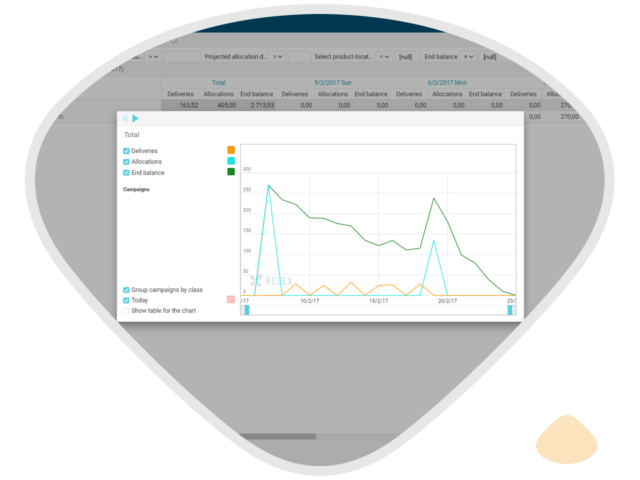 Stay competitive with RELEX's Living Retail Platform
All of RELEX's solutions are housed on our Living Retail Platform, which delivers pragmatic AI across all of retail's core planning processes. Find out how our unified platform has helped over 250 retailers break down their siloes and improve operational efficiency.
Check out the platform