Founded in 1910, DOUGLAS is the leading premium beauty platform in Europe. Offering more than 130,000 beauty and lifestyle products in online shops, the beauty marketplace, and over 2,000 stores, Douglas inspires customers to live their own kind of beauty by a previously unparalleled assortment.
The continued expansion of the fast-growing e-commerce business is the focus of the #FORWARDBEAUTYDigitalFirst strategy program. DOUGLAS has seen consistent e-commerce growth in recent years, with online sales doubling within the last two years alone—and the company continues to grow online market share in their core countries, including becoming the online market leader in France.
"DOUGLAS's e-commerce growth has been propelled by our #FORWARDBEAUTYDigitalFirst strategy, which outlines our path into the future of omnichannel retail," says Tina Müller, CEO at DOUGLAS. "Replacing legacy supply chain solutions with a more forward-looking, AI-based planning tool is a critical part of that strategy."
The Challenge: Digitizing the Omnichannel Supply Chain
DOUGLAS wanted a new solution that could digitize their supply chain and integrate stores and online channels within an agile, data-driven platform.
"#FORWARDBEAUTYDigitalFirst drives some of the most important decisions at DOUGLAS," explains Müller, "and our strategy demands a tool that can leverage AI and machine learning to drive improvements to speed, flexibility, resiliency, and cost throughout our omnichannel supply chain."
DOUGLAS conducted a vendor search with a clear set of goals for their new forecasting and replenishment solution:
More accurate, machine learning-driven demand forecasting
Automation in their ordering processes
Higher product availability
Inventory reduction
Flexibility to develop processes and respond to unforeseen changes
After a thorough evaluation of the AI-driven planning solutions available on the market, DOUGLAS selected RELEX to execute a proof-of-concept pilot in Germany.
RELEX and DOUGLAS began working toward the German proof of concept in June 2020, replacing SAP's SAF-based forecasting and replenishment functionality by integrating RELEX with the SAP system. The pilot went live in September and ran for three important months: the holiday season, including Single's Day, Black Friday, and Christmas.
Results: Forecast Accuracy Drives Availability and Inventory Reduction
Results at a Glance in German E-Commerce:
100% online sales growth over two years
97-98% automation of ordering
+2% omnichannel product availability
Significant reduction in inventory levels
Following strong pilot results during the challenging holiday season, DOUGLAS decided in January 2021 to expand their RELEX use to include forecasting and replenishment for stores and online channels throughout Germany, Austria, Switzerland, Italy, France, Poland, the Netherlands, and Spain. As of October 2021, the RELEX solution has already been fully rolled out in Germany and Austria.
Each market used its own planning tool before, but RELEX has become central to what DOUGLAS calls their "master branch" approach. The company can now treat each country and channel in their network as a branch of the same tree, operating in a single environment with the same order management parameters.
"RELEX is an extremely flexible tool," says Dr. Christian Korte, COO at DOUGLAS, "so we encourage users to innovate ways to improve processes and outcomes within the solution. When one team identifies an opportunity for improvement, we can now approve it from a central perspective, then execute it as part of the master branch implementation setup for omnichannel operations across all markets. In that way, RELEX ensures that we are working at a best-in-class level everywhere we do business."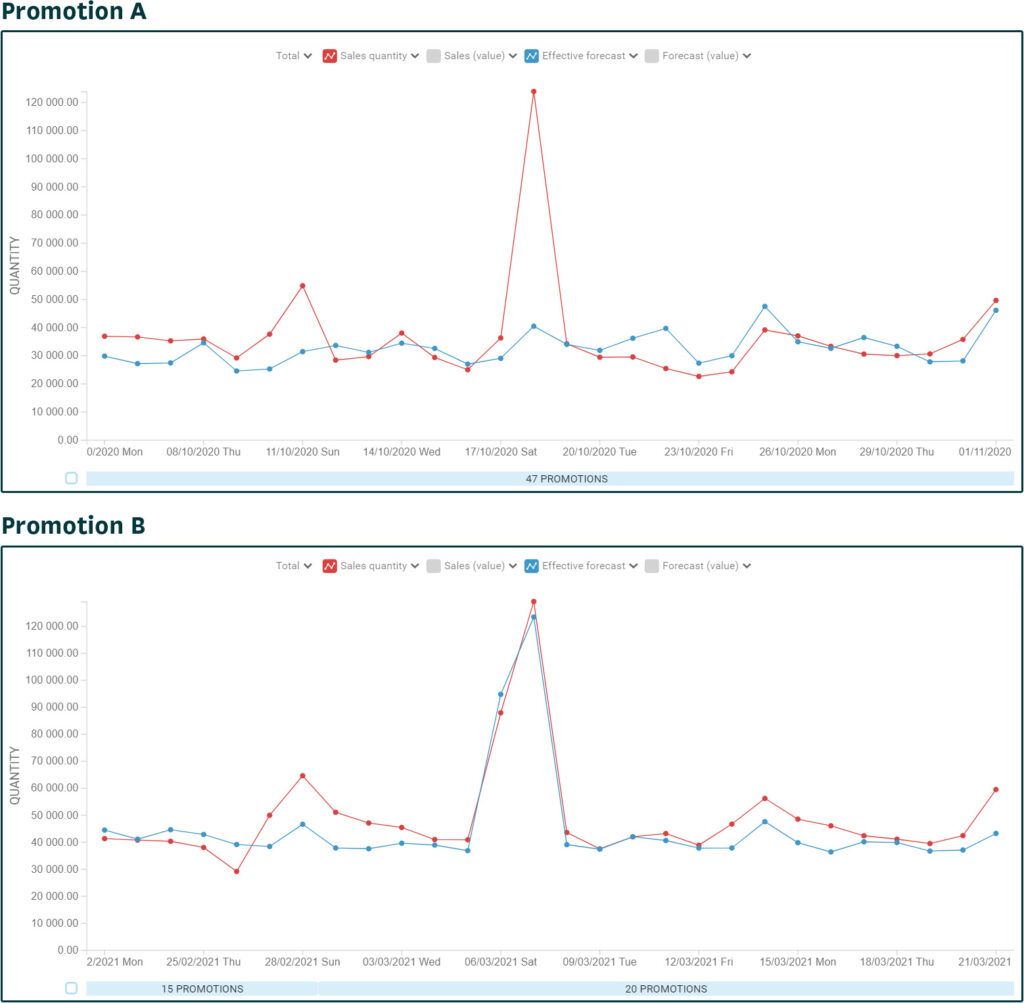 Introducing AI has transformed DOUGLAS's omnichannel supply chain and driven significant improvements. RELEX uses machine learning to consider large amounts of information—such as DOUGLAS's own promotion plans—in demand forecasts, improving forecast bias by almost 66 pp (Figure 1).
The German market in particular has seen impressive improvements to online forecast accuracy. Excluding holiday items sold only during a specific season, online forecasts in Germany averaged 98.56% accuracy throughout 2021, reaching as high as 99.49% in September despite high growth. This has contributed to the reduction of net working capital in the market.
"Providing a seamless customer experience is a crucial part of our omnichannel strategy," says Müller, "so high availability and fast fulfillment become extremely important. We see machine learning-based forecasting as a keystone element of that goal because accuracy only improves as the algorithm takes in more data. RELEX's AI-driven forecasting lays the foundation for us to continuously improve performance outcomes—and ultimately, customer satisfaction—over time."
This improvement to forecast accuracy has already enabled DOUGLAS to move quickly from highly manual replenishment processes to 97-98% automation of ordering. Planners now focus on highlighted exceptions only, ensuring that any manual interventions needed to respond to challenges like supplier shortages are efficiently executed.
"We saw a 2% improvement to product availability across the entire business. At the same time—and this is the true magic that RELEX provides—we were able to significantly reduce our inventory levels and days of supply," says Dr. Korte. "That is exactly the magic you want, and that's exactly what we've achieved using RELEX."
The COVID-19 pandemic has shut down much of DOUGLAS's brick-and-mortar business in the time they have partnered with RELEX, further driving home the need to improve omnichannel operations as demand shifted almost entirely online.
"RELEX's intelligent automation of supply chain decisions gives us great efficiency gains, but the system also provides the flexibility to make rapid adjustments as needed. These factors have been critical to our online success as COVID-related lockdowns have disrupted our brick-and-mortar channels," says Müller. "The effectiveness with which we've been able to adapt to unpredictable challenges while continuing our unchecked momentum in e-commerce growth is a testament not just to our planning teams at DOUGLAS, but also the RELEX tool that has enabled them to innovate and lead our industry."