15%
Increased total inventory turnover ratio
Established
a stronger, more flexible, and resilient organization
Increased
transparency and efficiency across the entire supply chain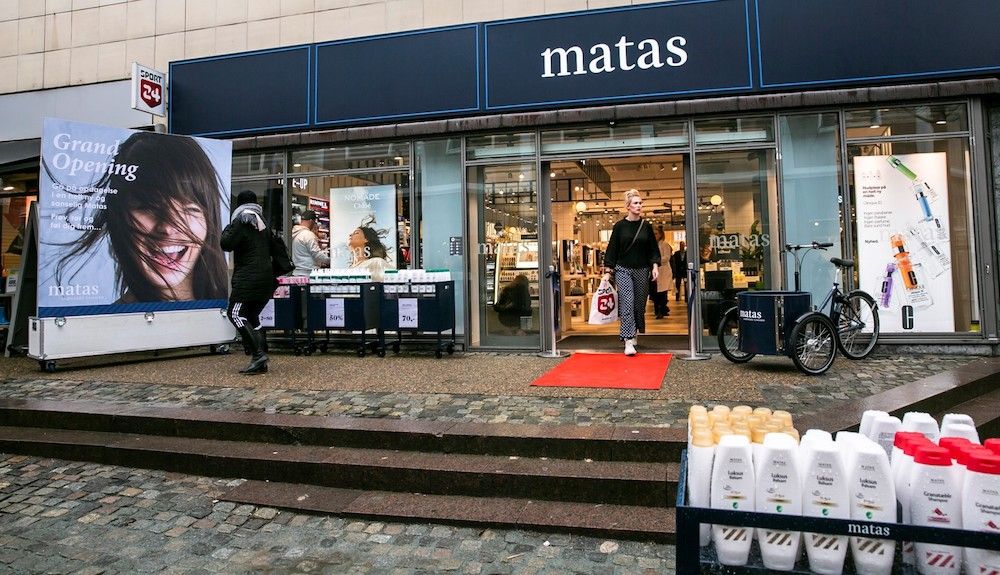 Matas, the leading health and beauty retailer in Denmark, has increased their total inventory turnover ratio by 15% through their partnership with RELEX Solutions, provider of unified supply chain and retail planning solutions.
As a forward-looking and ambitious retailer, Matas was no stranger to automated forecasting and replenishment technologies. Before partnering with RELEX, they used a first-generation platform and experienced the anticipated initial benefits of moving their more than 260 stores and growing omnichannel businesses from a manual replenishment process to an automated and centralized ordering process.
However, it was clear to Matas that further forecasting and replenishment improvements would require a new platform with capabilities that could match their level of ambition. After evaluating the market, Matas selected RELEX Solutions as their partner in optimizing their supply chain operations because their accurate and scalable forecasting features best aligned with Matas' strategic vision.
The project launched in the fall of 2019, oblivious to the global pandemic that was about to begin in 2020. Shortly after the solution went live across their operations, COVID-19 hit with full force, making a difficult operation even more complex. Some stores were temporarily closed due to lockdown restrictions, while others saw sales surge within certain categories. Navigating this environment was not easy, but RELEX's flexible and transparent supply chain solution proved to be a massive advantage throughout the challenge.
"We were very happy that we had RELEX to support us during COVID-19", says Johnny Rolsted, Supply Chain Manager at Matas. "Obviously, we were in uncharted territory and had to adjust the course several times. However, RELEX gives us a valuable level of transparency that makes it much easier to pinpoint where and how much we need to interfere with our demand forecasts and replenishment orders, so we can ensure our customers have what they need when they need it."
As the situation normalized, Matas returned their focus to improving the fundamentals of their supply chain. As a publicly listed company, they place a strong emphasis on performance, and every quarter is treated as an exam for the entire company and their supply chain.
Their primary KPIs are similar to those of many other retailers:
Increase availability
Reduce inventory
Reduce handling costs
Since introducing RELEX, Matas's inventory turnover ratio has steadily increased and is a testament to the ongoing optimization of their supply chain. From late 2019 until now, total inventory turnover ratio has increased by approximately 15%. It's important to note, however, that overall availability is still suffering from some supplier turbulence post-pandemic, but when products are delivered as expected, store availability is high and increasing.
"We are convinced that we have the right platform for Matas' continued development," says Brian Gøbel Poulsen, Logistics Director at Matas.
Breaking down silos resulted in a more flexible and efficient organization.
Introducing RELEX also enabled a minor reorganization, where planners are now responsible for products throughout the entire supply chain – from suppliers to stores – instead of being functionally divided into purchasing and store distribution siloes, respectively. The result is a flexible and efficient organization.
"Planners have handled the transition amazingly," says Rolsted. "With RELEX, we have empowered our organization to take full product ownership, clarify responsibilities, and have more flexibility to handle absences. All in all, we're a much stronger and more resilient organization now compared to three years ago."
"We are very excited to see the impressive results Matas has achieved," says Søren Gram Christensen, Operations Director Scandinavia at RELEX Solutions. "We highly appreciate our good relationship and cooperation with Matas and look forward to continuing to support this leading and forward-thinking company on their supply chain transforming journey."
By working with RELEX, the company has:
Increased total inventory turnover ratio by 15%
Established a stronger, more flexible, and resilient organization
Increased transparency and efficiency across the entire supply chain