Today's global supply chain is experiencing era-defining disruption, with media coverage bringing supply chain challenges to the forefront of even popular conversation. Retailers and consumer packaged goods (CPG) companies alike have been heavily impacted, and the industry as a whole—from suppliers to CPGs to retailers—has struggled to move products through the supply chain to end-consumers.
While today's supply chain disruption has obviously been driven by the COVID-19 pandemic, it has only exposed severe weaknesses that the industry has known about for decades but failed to address. Research has shown that retailer-CPG collaboration is one of the critical elements for preventing or escaping supply chain disruption. Unfortunately, most retailers and CPGs still lack the capability to collaborate effectively.
Efficient Supply Chain Collaboration:
Why is it so important and why is it at the top of everyone's mind?
1. Why Retailers and CPG Companies Need More Effective Supply Chain Collaboration
The most important element of effective collaboration is a data-sharing routine that creates end-to-end, near-real-time visibility into supply and demand throughout the supply chain. That kind of visibility, when combined with more collaborative working relationships, enables retailers and CPGs to mitigate the bullwhip effect and prevent a range of issues that can arise from unexpected changes to supply and demand signals.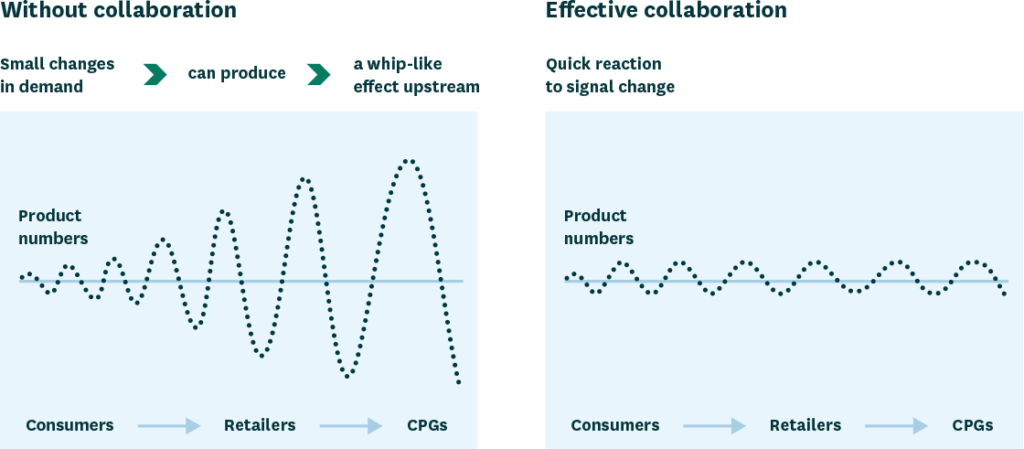 In recent years, the pandemic has driven disruption at a dramatic, urgent scale—for example, panic-buying runs on toilet paper or demand spikes for home improvement products once people realized they needed to settle in at home for the long haul.
While these examples have different root causes, they also have one important thing in common: their impact on sales and consumers could have been mitigated through more effective short- and long-term collaboration between retailers and CPGs.
However, effective supply chain collaboration is needed for far more than just managing exceptional, COVID-driven events. It also enables retailers and brands to better adapt to a number of pre-pandemic trends that have drastically accelerated since 2020—including managing demand volatility and material shortages throughout the global supply chain.
Both retailers and CPG companies need effective supply chain collaboration strategies if they hope to adapt quickly enough to keep pace with the rate of change. It makes sense, then, that a recent Deloitte study reveals that 75% of procurement leaders name supplier collaboration as their top strategy for mitigating supply chain risks on an ongoing basis.
With a system that automatically shares forecasts and other crucial information with supply chain partners, both retailers and CPGs position themselves for success by:
Aligning business objectives with partners who could have a significant impact on their business
Gaining proactive visibility into future supply and demand needs, enabling planners to anticipate and prevent potential problems
Increasing planning accuracy in end-to-end supply and demand planning processes
Improving efficiency across operations
Reducing inventory throughout the supply chain
As a result, companies who can effectively collaborate with their supply chain partners regularly outperform their competition, averaging about 2x higher growth and 4.9% more in EBIT than their industry peers, according to a 2021 McKinsey study.
2. Supply Chain Collaboration Is Far Easier Today Than in the Past
We should acknowledge that "supply chain collaboration" isn't just a new buzzword that's trending because of today's challenges. Industry veterans will recall how this topic dominated the discourse in the early 2000s. Until fairly recently, though, planning systems haven't been able to support meaningful collaboration between retailers and CPGs—this is unfortunately still the case for many legacy systems.
However, modern supply chain solutions are now advanced enough to support the meaningful collaboration and end-to-end supply chain visibility that retailers and CPG companies alike could only imagine in the past. Let's look briefly at the traditional inhibitors to effective supply chain collaboration before exploring the technological improvements that enable it today.
Traditionally, the major roadblocks to effective supply chain collaboration have been:
The enormous amount of time it takes to manually share information with each partner in your network, as many older systems can't automate the work
A lack of a standardized language for data-sharing, which leads to information being sent and received in unusable formats
A mismatch in forecast granularity and planning horizons between retailers and CPG companies
Fortunately, modern supply chain systems can eliminate these roadblocks.
Modern technology leverages AI and machine learning to automatically integrate large amounts of partner and other prescriptive data into forecasts and plans at a scale no team of human planners could hope to achieve. It also automates the process of exporting and importing data in many different formats, ensuring the recipient can take information into immediate use in their own planning system. A good solution also makes it possible for retailers to work with longer planning horizons—both to better collaborate with their CPG partners and to manage their own private label production plans—and for CPGs to get more granular than ever before in their demand planning.
Modern tools not only take in more information than ever before—they also automatically translate raw data into prescriptive analytics. Best-in-class solutions can provide an exception-based process in which the system automatically highlights significant discrepancies or changes and provides a recommended course of action. The planner only needs to review recommendations each day and approve, edit, or decline them.
3. The Keys to Effective Supply Chain Collaboration
My motto has always been that retailers and suppliers have one supply chain, and we succeed or fail together. By sharing our forecasts with our suppliers, everyone benefits through better transparency and communication, improved ordering processes, and reduced waste.

Andreas Persson, Head of Replenishment at ICA
Retailers and CPG companies once had very different business needs, which explains why their data has traditionally been difficult to share. Companies format their data to serve their own needs, after all, not those of their partners.
For effective supply chain collaboration, retailers and CPG companies need to work within a collaborative planning solution that can consider changing needs and automatically translate shared data into the most useful format for all parties involved. Let's look at the different considerations that a best-in-class collaborative planning tool should account for.
3.1 Retailer Considerations for Effective Supply Chain Collaboration
Efficient Supply Chain Collaboration:
What considerations should retailers take to improve collaboration?
3.1.1 Retailers need longer planning horizons for effective planning and supply chain collaboration.
Traditionally, retailers have worked on shorter planning horizons because they've been able to rely on suppliers' high availability and speed of response to fulfill orders very quickly. The inability to translate retailer data into a longer planning horizon was one of the major inhibitors of effective collaboration.
However, as today's retailers increasingly import goods from Asia and invest in private label production, their needs are actually becoming quite similar to those of their CPG partners. Planning must happen on a much longer horizon if they hope to benefit from better capacity management and ensure high product availability around high-volume seasons like the winter holidays. Today, both retailers and CPGs need visibility into long-term demand if they want to ensure the supply chain can source materials, ensure production capacity, manufacture goods, and ship them to retail locations in time to meet demand.
A best-in-class demand planning solution not only provides retailers and CPGs with granular demand forecasts for both short- and long-term planning horizons—it also enables supply chain partners to easily share that information with each other to improve visibility into both supply and demand.
3.1.2 Retailers must share order forecasts with enough time to secure the needed supply.
The sales forecast isn't the only information that a CPG needs from a retailer. The ability to share retailer order forecasts is even more important for ensuring high availability for end consumers.
Order forecasts reflect current stock levels in stores and DCs as well as business decisions around seasons, holidays, and promotions that aren't captured in sales forecasts. While demand forecasts can give advance notice of a retailer's planned promotion, it's the order forecast that tells CPG companies when the retailer will start ramping up inventory ahead of the promotion launch and in what quantities. The same logic applies for major seasons like Christmas or Halloween, which generally require stores to build up seasonal stock well in advance of the actual holiday.
Without the valuable information found in order forecasts, there's no guarantee a given supplier can meet that higher demand. Retailers need a planning tool that can easily share order forecasts with enough time to secure supply.
3.1.3 Retailers need to be able to tailor their data-sharing template for each partner segment in their network.
There's no one-size-fits-all template for retailer-supplier data sharing. When retailers set up their data-sharing processes, they need to be able to tailor their approach by supplier segment. ICA Sweden, for example, typically shares their 90-day demand forecast but is able to easily segment their suppliers to share a six-month forecast with those who would benefit from a longer forecast horizon. That kind of system flexibility and automation frees retail planners to focus their attention where it's most needed.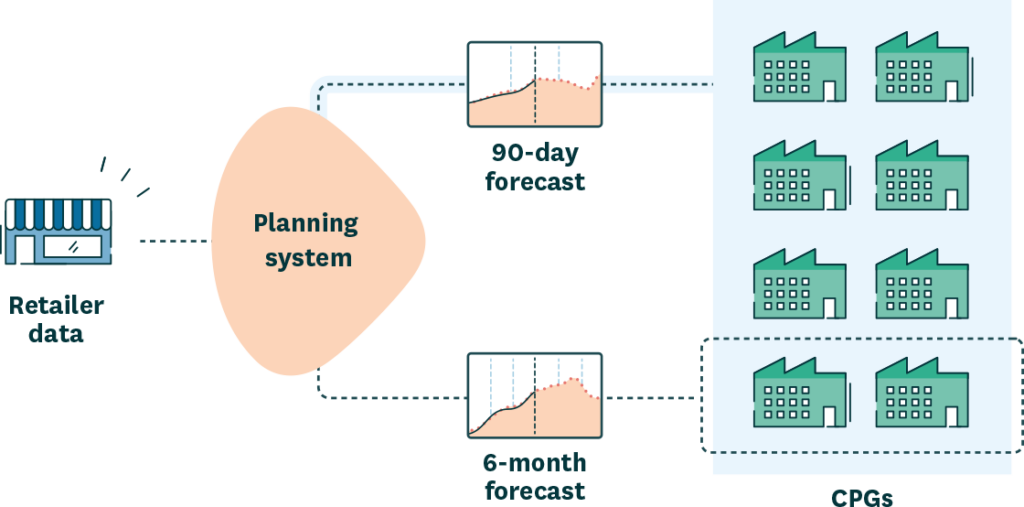 Modern technology gives retailers the ability to tailor data-sharing workflows to the needs of each partnership. Once retailers set up templates for each supplier segment they define, their planning system should automatically share a range of data in a format and level of granularity that meets each supplier's planning needs. For their largest suppliers, who may need more information, retailers can even share data on promotion and assortment plans, seasonal ramp-up and ramp-down schedules, inventory levels, and more.
3.2 CPG Considerations for Effective Supply Chain Collaboration
Efficient Supply Chain Collaboration:
What considerations should CPGs take to improve collaboration?
3.2.1. CPG companies must be able to forecast at the customer/banner level.
In the past, most CPG companies forecasted their demand at a regional level, a customer group level, or by distribution center. While this level of aggregation can be useful for many CPG planning activities, it made it impossible to anticipate how one retail customer's business decisions would impact overall demand because retailer data couldn't be incorporated easily into their planning.
Today, modern CPG companies are leveraging technology that enables far more granular forecasting, making it much easier to leverage banner-level data from their retail customers. The ability to incorporate retailer data in their own forecasting helps CPGs anticipate how each retailer's promotions, assortment changes, and other business decisions will impact the larger demand picture. If their system can't process banner-level data, planners need to do manual calculations to pull usable banner-level information out of regional forecasts, resulting in inaccurate forecasts and laborious processes that shouldn't be taken into use.
3.2.2 Most CPGs stand to benefit from machine learning-based forecasting.
CPG companies already work with enormous amounts of data in their supply, demand, and production planning. To begin taking in retailer data as well, most CPGs need the benefits of machine learning-based demand forecasting. Machine learning is an excellent way to achieve the high levels of automation required for granular forecasting that incorporates retailer information like order forecasts or point-of-sale data.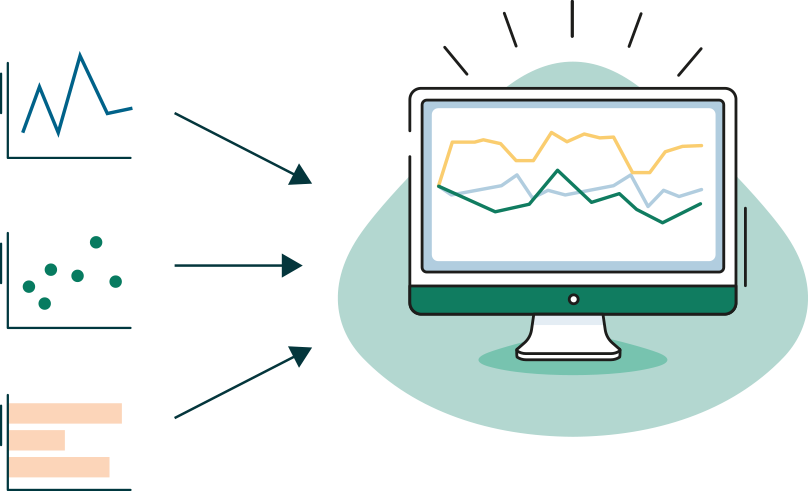 Machine learning also opens up opportunities to utilize a more versatile range of retailer data. Beyond sales and order forecasts, CPGs can use banner-level assortment plans to further increase forecast accuracy. With assortment plan information, CPGs can predict how their demand will change if, for example, a large retail customer plans to add a new store or begin carrying a product at more of their stores. If using retailer assortment data, though, it's important that CPGs receive it with enough lead time to ensure accurate, timely demand and supply planning.
CPGs can also benefit from taking in banner-level campaign data because they—especially food and beverage CPGs—often face overlapping promotions across their network that can be challenging to account for. With machine learning, CPGs can automatically take banner-level promotion and pricing decisions into consideration to improve forecast accuracy.
While retailers often benefit from the ability to incorporate local weather forecasts into demand forecasts using machine learning, the timeline is usually too short to impact CPG production plans. However, that information can be useful for distribution plans, particularly for CPGs that offer direct-to-store deliveries.
4. Advanced Supply Chain Collaboration Demands a Collaboration Portal
As discussed in Section 3.1.3, it's important to tailor a collaborative approach to the needs of each relationship in a network. Most retailers have primary suppliers who provide the majority of their goods, then an assortment of smaller suppliers, while most CPGs have large accounts that make up the majority of their sales, then an assortment of smaller customers. Some relationships need more attention than others.
Best practice is to automate data sharing with all supply chain partners at a level of granularity that makes sense for their needs, but to then focus planner attention on more advanced, two-way collaboration with the partners most important to the business's success.
While retailers can make a great deal of data available, data sharing is useless if their planning system exports information in a format that suppliers can't take into immediate use in their own system. Thus far, we've described how solutions can now format incoming and outgoing data to fit different needs and automatically share reports at a regular cadence with supply chain partners. But even greater advancements than that have been made in recent years.
Modern solutions enable supply chain partners to share data through a collaborative planning portal. A supply chain collaboration portal enables planners from both parties to access accurate, near-real-time data in a format that can be taken into immediate use. They can also communicate directly with their partners through the portal, leaving comments that provide qualitative insights and explanations about the data being shared.
Customizable views into the most updated data improve visibility into supply and demand, providing both parties with a single, shared source of information to facilitate supply chain collaboration. This level of visibility is crucial to tackling a range of issues together, including operational efficiency, planning for major promotions and seasons, and improving both performance and the strategic relationship.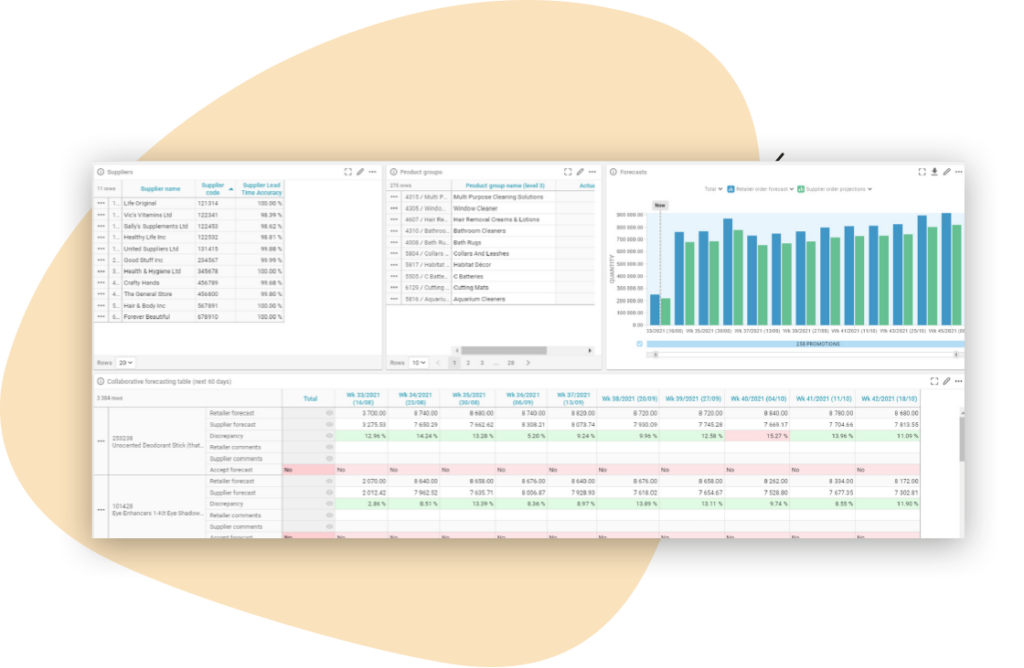 An advanced solution with exception-based processes could even automate some decision-making entirely—or at least provide recommended actions that planners only have to review and approve—freeing planners' time to focus on areas where special attention is needed.
Beyond improved visibility, though, retailers and CPGs must still establish a regular cadence of alignment meetings with their most important partners to discuss their plans using the most updated information. These meetings should also be used to proactively address forecast discrepancies before they snowball into unmanageable problems—if a retailer's upcoming assortment change decision, for example, will cause an order proposal ten times larger than the supplier's demand forecast predicts based on normal trends.
5. The Benefits of Effective Supply Chain Collaboration
Both retailers and CPG manufacturers stand to see significant benefits once they can
Automate reliable data-sharing routines that provide all partners with improved supply chain visibility
Establish a regular cadence of alignment meetings with the partners who impact their business the most
For retailers, improved supply chain collaboration can drive a range of benefits, including increased availability for both store and online sales and more effective, balanced goods flows that proactively prevent capacity bottlenecks in stores and DCs. Regular communication and reliable access to supplier data also enable retailers to adjust proactively to potential supply challenges before they become a problem.
CPGs, on the other hand, gain a more accurate picture of demand—granular enough to capture plans for promotions and assortment changes throughout their retailer network. This kind of forecast improvement enables them to respond more quickly when demand signals change, driving smarter decisions in inventory, logistics, and production planning.
Retailers and CPGs alike can drive these improvements while actually saving planning time through the high levels of automation and intelligent decision support that a best-in-class planning solution can provide.
And finally, reliable forecast sharing can also support sustainability metrics by reducing fresh spoilage, which is becoming increasingly important not only to consumer and corporate values but also to regulatory compliance. With access to accurate retailer forecasts, suppliers can adjust production plans up or down to avoid waste while filling orders. Retailers and suppliers can also collaborate to ensure that delivery schedules for fresh inventory consider shelf-life information, helping retailers avoid on-shelf spoilage.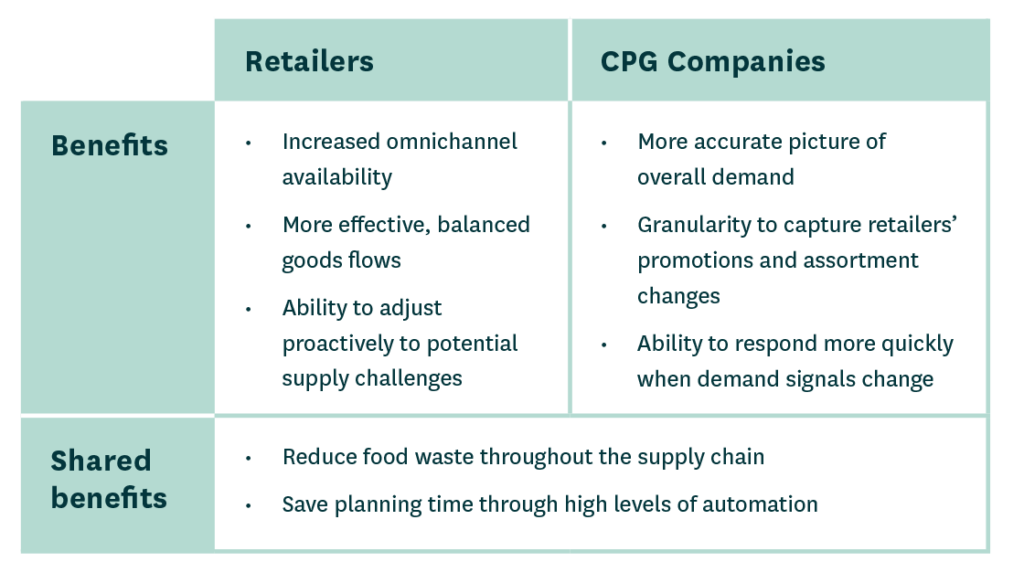 With effective data-sharing and more collaborative working relationships in place, retailers and CPG companies alike will benefit from true end-to-end supply chain visibility. This is critical in the immediate future, as the industry works to emerge from the COVID-19 pandemic.
The lasting benefits, however, extend far beyond the immediate moment. Supply chain collaboration can improve outcomes for a range of scenarios that can be difficult to manage in less disruptive times, from assortment changes to promotions and major holidays like Halloween or Christmas. When retailers and CPG companies are able to reliably share data and engage in meaningful two-way collaboration, the industry as a whole will see higher efficiency and stronger outcomes—even during the best of times.