Workforce optimization and management solution
Schedule the right amount of staff to handle your projected workload. With optimized staffing, you can increase efficiency by up to 10% as workforce costs go down and sales go up.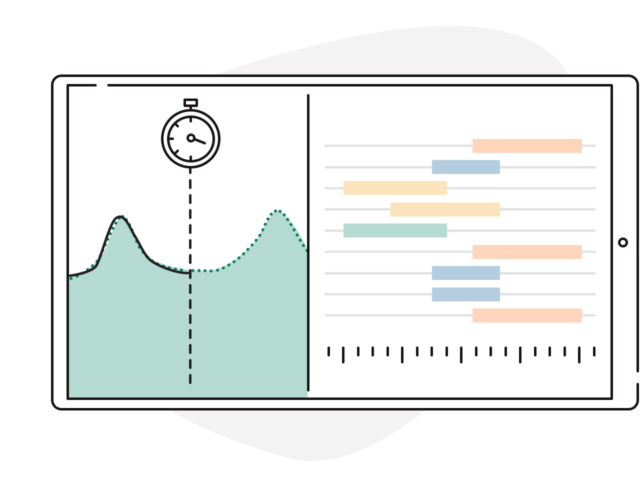 RELEX's workforce optimization software provides unprecedented workforce planning
We've developed algorithms and heuristics tailored for work shift optimization. Our pragmatic AI delivers schedule optimizations at speeds unmatched on the market, enabling your planners to test what-if scenarios and react quickly to change with optimized decisions.
8%
reduction in store personnel costs
"By using demand forecasts that we already get from RELEX, we can better match the planned work shifts with the actual workload, which makes us more efficient, saves us money, and makes the workforce planning process much more transparent than before."

Thomas Berglund, CIO Coop Värmland
Benefits
Make better decisions, faster with workforce optimization software
Workforce planning is too important — and costly — to leave to guesswork. Match your shift scheduling to actual workload with accurate projections based on granular forecasts.
Accurate workload forecasts
RELEX's workload projections are driven by our powerful forecasting tool. We can forecast your intraday sales and daily goods flow months in advance — then apply that data to your workforce planning.
Optimized shifts
We use pragmatic AI to optimize your shifts based on accurate workload forecasts. RELEX takes workload, floating tasks, and employee contracts into consideration to reduce unnecessary costs and improve your service levels.
Happy employees
RELEX takes employee contracts, availability, preferences, and labor agreements into consideration to balance work shifts, eliminating both costly overstaffing and employee stress from understaffing.
The full range of tasks
RELEX can optimize any type of task you need executed in your stores or distribution centers. Our system can flexibly model the full range of tasks, whether it's fixed, forecast-based, floating, or a hybrid.
Highly automated shift planning
Optimize your shifts with the click of a button and easily manage activities in one simple view on our web-based solution. Store employees benefit too — RELEX publishes shift schedules directly to their mobile devices.
Reporting time and attendance
Our workforce optimization software makes it quick and easy to log all of your employee time and attendance data. It also provides real-time visibility, giving planners the flexibility to make informed adjustments on the spot.
Long-term resource planning
Identify your risk of costly overstaffing or burdensome understaffing well in advance. RELEX compares your business's long-term workload forecasts against staff availability to help you plan accurately for the long haul.
Planning transparency
We give your team a full audit trail from forecast to workload — and on to the planned shifts. Get a continuous view of how planned shifts will impact mission-critical KPIs — your workforce data is at your fingertips.
"RELEX was selected because it can offer forecast-based automatic planning and optimization, considering all the different store formats and roles."

Nuutti Rantatupa, Director of Development Kesko Oyj Grocery Trade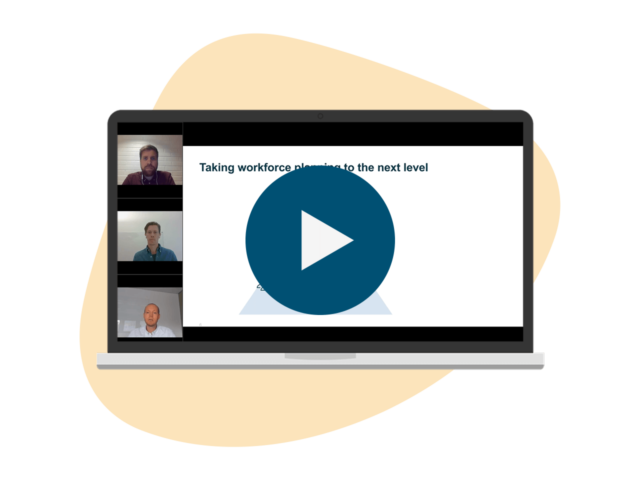 Unleash the potential of AI-driven workforce optimization in retail stores
In this webinar, RELEX's experts will share insights on how to optimize and automate workforce planning in stores, increase efficiency, and provide better flexibility and engagement for employees.
Features
Highlighted features of RELEX's workforce optimization software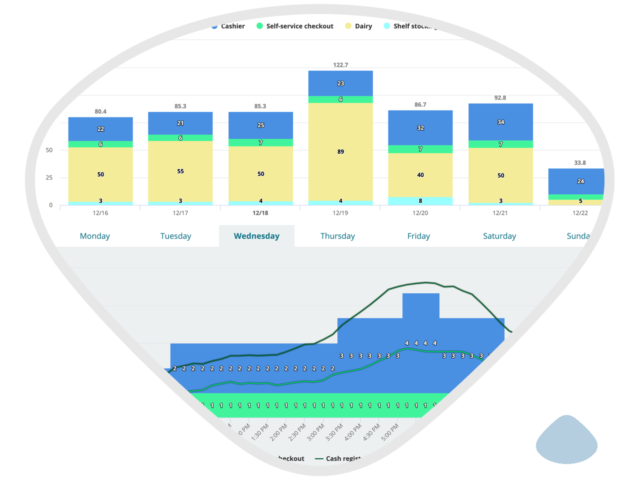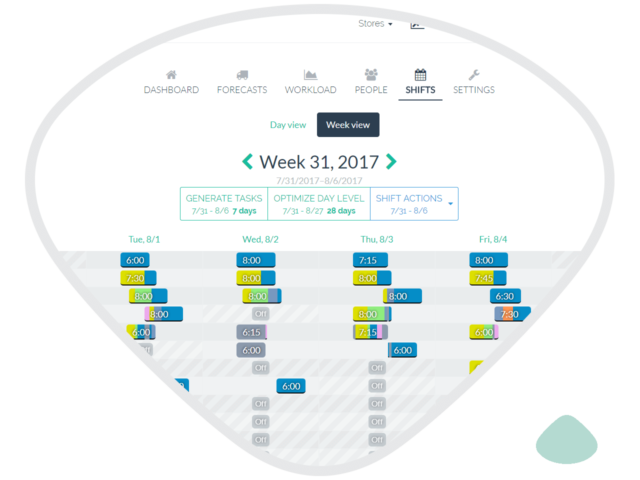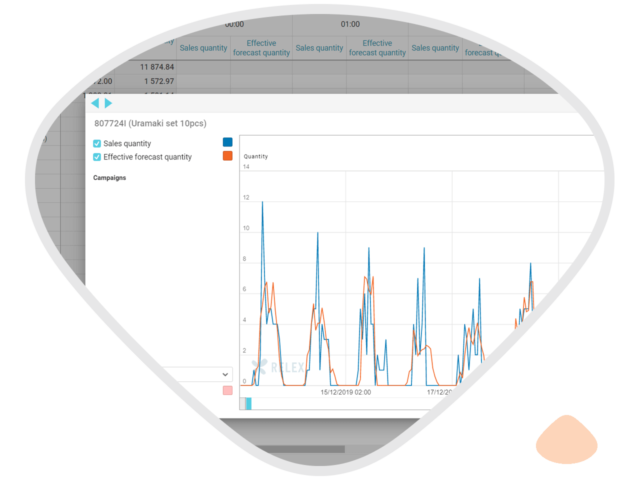 Accurately optimize your workload
RELEX accurately projects customer footfall and sales activity on a 15-minute level — even factoring in seasonal and weekday variations or holidays and events. We use that data to optimize workloads, so you can allocate and balance tasks across your workforce.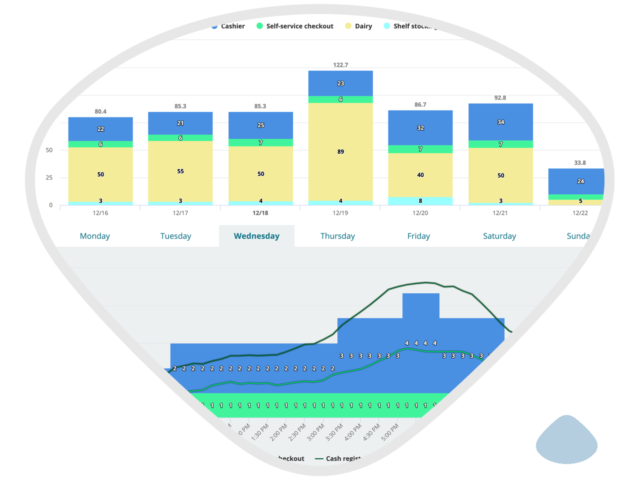 Optimize your employees' work shifts
RELEX uses workload forecasts to ensure you have enough staff to deliver high quality customer service to match projected footfall and efficiently replenish your projected incoming deliveries. Improve efficiency, costs, and customer experience at once.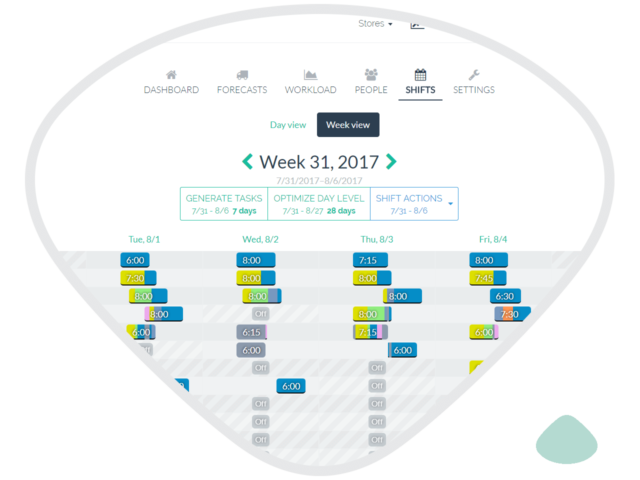 Replenish incoming deliveries efficiently
RELEX's automatic replenishment system calculates your projected vendor orders and deliveries months in advance, right down to a store-day-item level. It even accommodates irregular stock movements ahead of promotions or product launches, ensuring you'll always know how to optimally resource your replenishment tasks.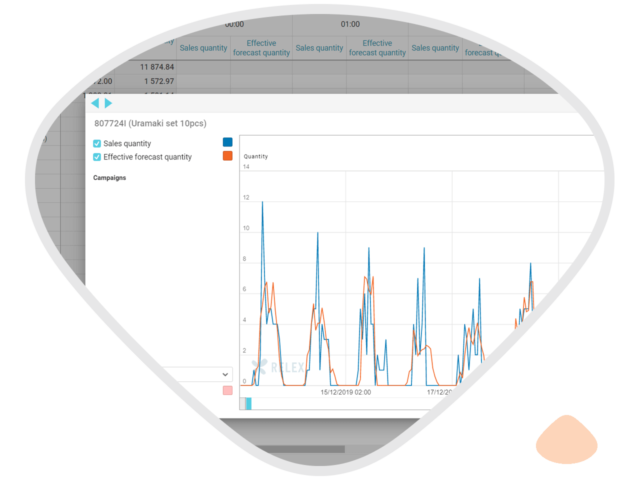 Stay competitive with RELEX's Living Retail Platform
All of RELEX's solutions are housed on our Living Retail Platform, which delivers pragmatic AI across all of retail's core planning processes. Find out how our unified platform has helped over 250 retailers break down their siloes and improve operational efficiency.
Check out the platform