Workforce optimization software
Optimize workforce planning for better shift schedules and employee satisfaction
RELEX workforce optimization software supports data-based scheduling decisions. Ensure you have the staff available to manage your projected workload while increasing efficiency, lowering costs, and improving productivity and employee satisfaction.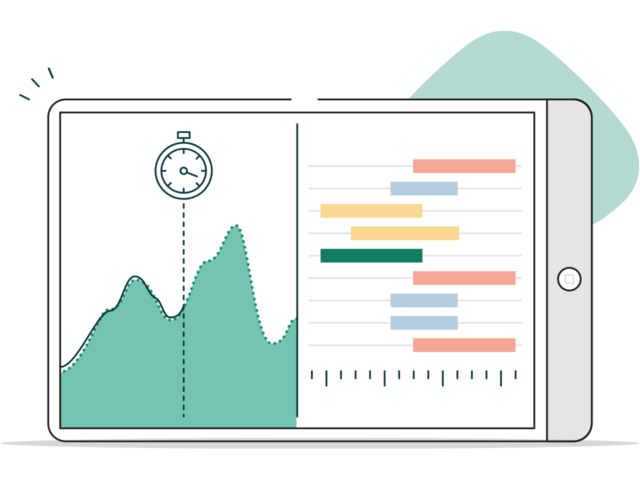 Automate and optimize your workforce scheduling and management
Backed by our powerful AI forecasting engine, RELEX workforce optimization software allows you to accurately forecast workload, create matching shifts that comply with complex local legislation and rules, and improve employee engagement and satisfaction.
6-10%
reduction in store personnel costs
7-9%
increase in employee productivity
Meet our partners
We partner with the best workforce management (WFM) software providers to offer our customers the full benefits of unifying workforce planning and management.​
"With the new end-to-end solution, Yliopiston Apteekki can leverage machine learning to generate accurate workload forecasts and optimal shifts. It also empowers our employees to carry out their essential workforce functions, such as shift swapping, time and attendance and absence management, with ease."

Sami Laine, HR Director Yliopiston Apteekki
Benefits
Improve efficiency, customer service, and employee satisfaction
with our AI-driven shift scheduling
RELEX workforce optimization software supports the full workforce planning process, enabling accurate workload forecasting, automated shift scheduling, and employee engagement through mobile access.
Reduce personnel costs
Avoid over- or understaffing—and all the associated costs—by matching staff availability with predicted workload at each of your locations through accurate forecasting and automated scheduling.
Improve customer satisfaction
Make sure you have the right amount of staff in stores during your highest-customer demand windows to ensure your shoppers always receive the superior quality of service they deserve.
Create better schedules with less work
Get rid of cumbersome, ineffective, manual workforce planning processes with AI-driven forecasting and automated shift planning that considers individual tasks and skills while complying with legal requirements.
Delight your employees
RELEX automatically plans shifts that incorporate your employees' availability and preferences while improving their experience with a mobile application that lets them review and manage their schedules.
Plan for the right capacity
Proactively address approaching capacity risks before your business feels any negative impact by improving short- and long-term resourcing to avoid personnel shortages or surplus hours.
Align planning across functions
Gain immediate visibility into the workload impact of changes to demand or supply plans, then use this information to improve alignment and collaboration across all functions.
Highlighted features
Workforce optimization and management software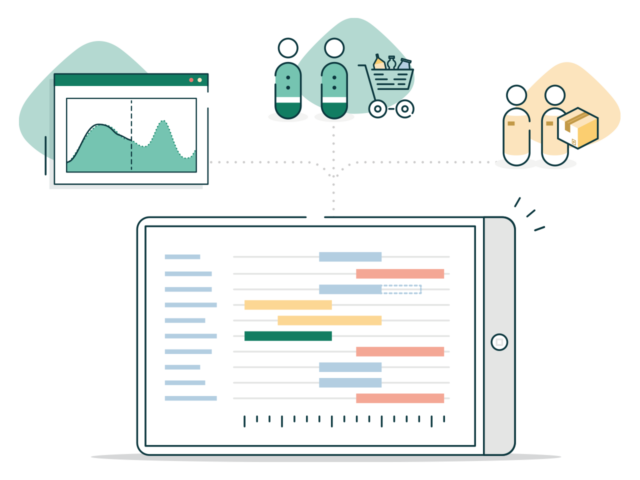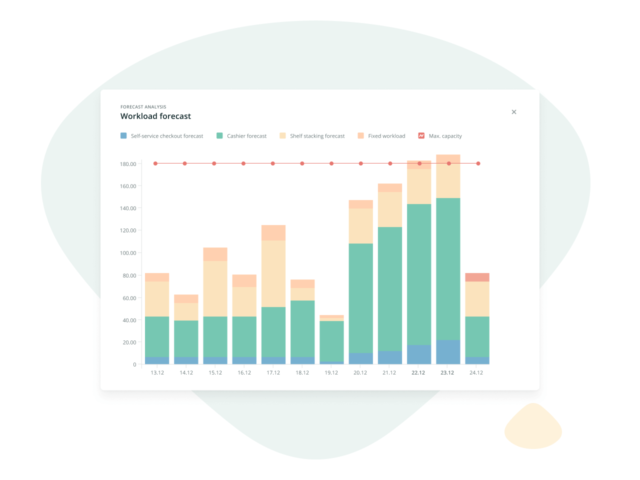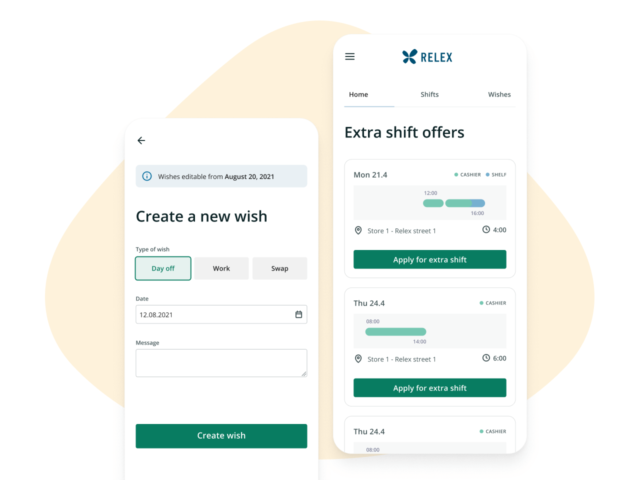 Gain visibility into future workload requirements
RELEX accurately predicts future workloads based on forecasted sales, customer footfall, and inbound goods flows to identify your resource needs in customer service and goods handling.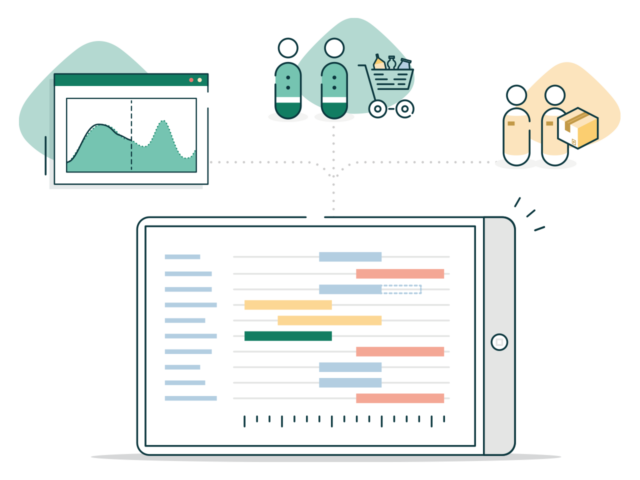 Create optimal work schedules automatically
RELEX uses workload forecasts to automatically optimize shifts that account for employee contracts, skills, preferences, complex local legal requirements, and company-specific rules.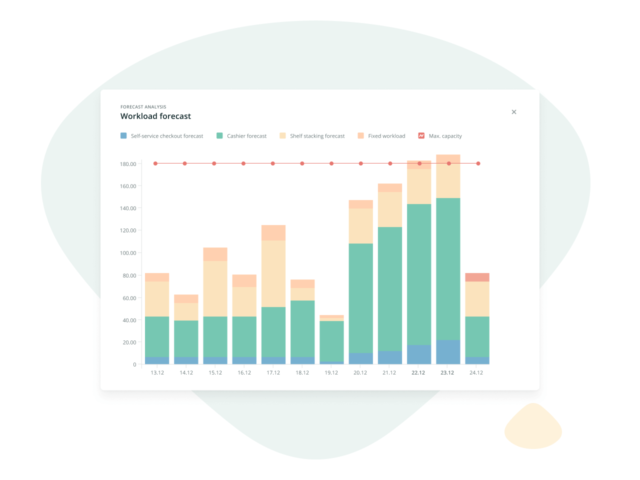 Drive employee engagement
Provide your employees with a mobile application that lets them communicate their upcoming shift preferences, easily swap shifts with coworkers, or bid for extra shifts.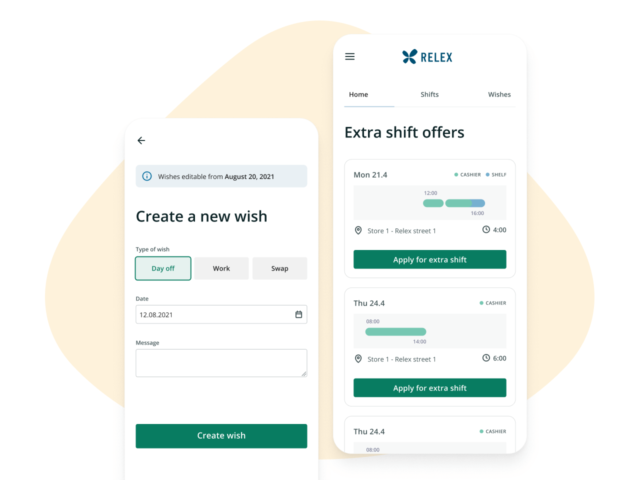 Resources
Check out our library of industry insights.
Stay competitive with RELEX unified supply chain & retail planning platform
All our solutions are part of our unified supply chain & retail planning platform. Find out how our unified platform has helped hundreds of retailers and consumer goods companies break down silos and take their core planning processes to the next level.
Check out the platform