For years, RELEX has helped food retailers reduce food waste through more accurate forecasting and inventory optimization. As a leader in our industry, our goal is to help our clients make a significant positive impact on their sustainability. For example, our grocery customers have consistently seen a reduction in food waste from 10% to 40% annually.
While we know that food waste reduction translates to a reduced carbon footprint, we wanted to understand the impact in more detail, so we teamed up with the sustainability experts at Gaia Consulting. This partnership resulted in a study that measured the annual carbon footprint reduction of four of our customers in grocery, e-grocery, food service, and convenience retail. The research found that these customers each saved between 228,000 and 302,000 kilograms of CO2-equivalents annually after the implementation of RELEX.
If we scale these results to our full customer base, we can extrapolate that we are helping food retailers and distributors remove more than 17 million kilograms of CO2-equivalents per year. As the number of food companies using RELEX grows, our positive impact on the climate also continues to grow, and as our customers expand their use of our retail planning solutions, they also see further improvements over time.
Further Customer Achievements in Sustainability
Beyond improving their forecasting and replenishment to cut food waste, our clients have seen sustainability benefits by expanding their use of the RELEX platform in other ways. For example, foodservice company Wihuri was able to not only reduce food waste through increased supply chain visibility but also increase the amount of goods they are able to donate, while e-grocer nemlig.com was able to use proactive markdown optimization to reduce food waste.
Additionally, we have seen the effects of improved warehousing and transportation on our customers' carbon footprint. Through more effective replenishment planning, for example, grocery retailer Bünting was able to reduce their distribution mileage and corresponding emissions by 27%. As the carbon impact of distribution is highly dependent on the vehicles used, the impact of transportation is even more difficult to measure than the impact of reduced food waste, but we're certain that RELEX will be able to make progress in that area, too.
RELEX's Commitment to Reducing Our Carbon Footprint
However, having a hugely positive climate impact by reducing our customers' carbon footprints does not mean we can overlook the sustainability impact of our own operations. As a SaaS company, data processing is at the core of what we do and is where we have focused on making sustainable choices. We are also taking steps to review our internal operations and see where improvements can be made to further reduce RELEX's carbon footprint.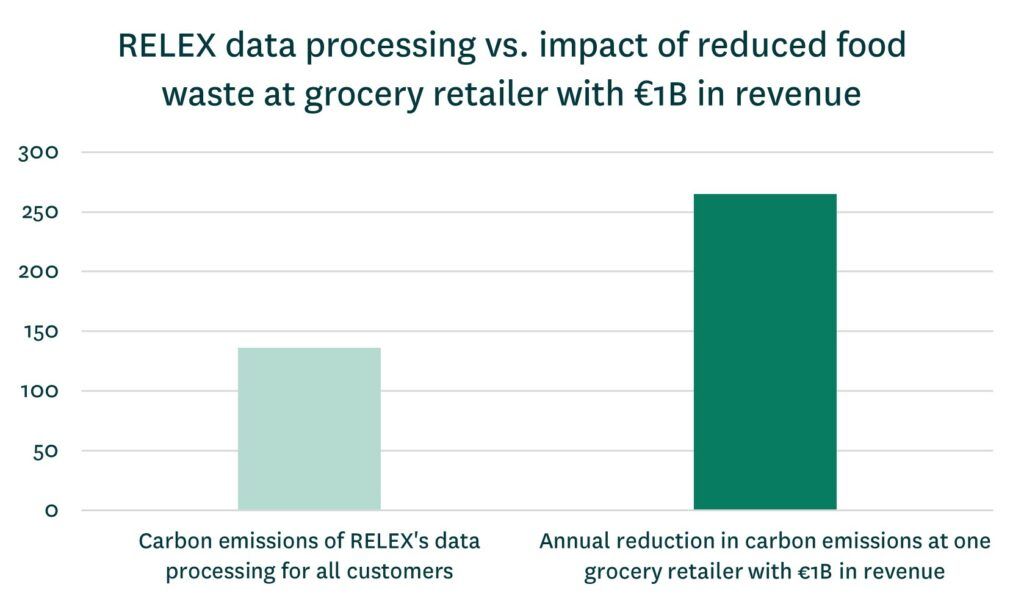 The data centers RELEX uses for private cloud computing run on renewable energy, as does Azure, which we use for our public cloud computing. Because of these partnerships, in 2020, the carbon footprint of our entire computing infrastructure—including data center energy consumption, the lifecycle impact of the servers we use, and our use of public cloud services—remained low despite the addition of many large retailers to our roster. RELEX's carbon footprint amounted to just around 50% of the annual carbon footprint reduction attained by just one €1B grocery retail client through implementing RELEX for forecasting and replenishment (Figure 1).
In fact, compared to the estimated positive impact of reduced food waste on our full customer base of grocery retailers, food service clients, e-grocers, and convenience retailers, the carbon footprint of our data processing is less than 1% (Figure 2). In other words, the carbon footprint ROI for our data processing is more than 100x!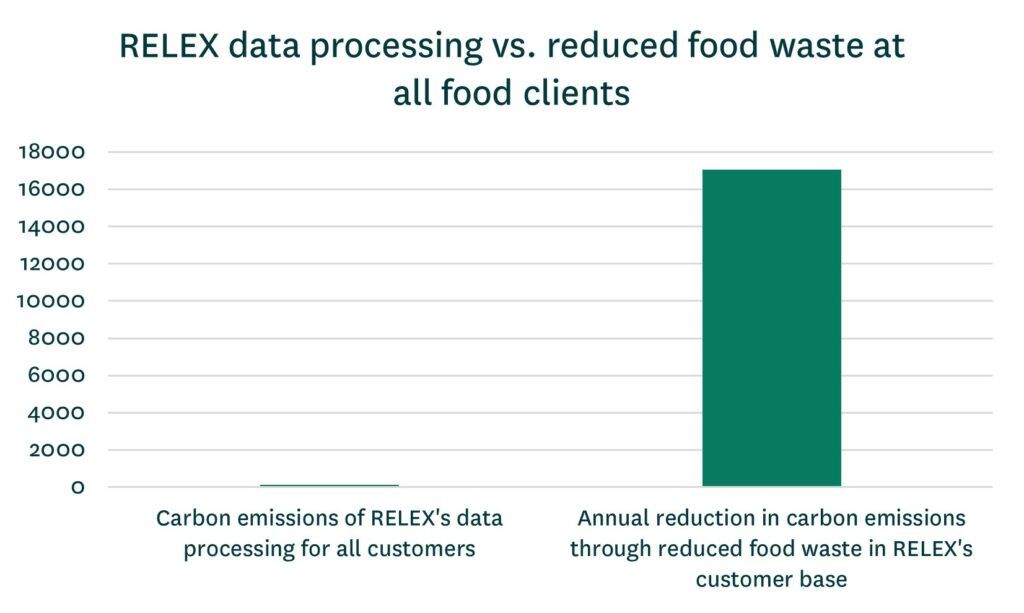 As a next step, our RELEX teams are reviewing their internal processes to find other ways to reduce our company's carbon footprint. For example, we have always had very flexible work-from-home policies in place, and during the pandemic, we successfully carried out implementations and trainings remotely. We will continue allowing our employees to work remotely when feasible while also reviewing ways to reduce energy usage in our global offices.
Similarly, while travel has significantly decreased in the last year due to the pandemic, we aim to partner with our customers to find ways to reduce non-essential business travel as the world opens back up. This will be handled in a way that can mitigate our carbon footprint without impacting the important hands-on work that our teams need to complete together.
Last but certainly not least, we will be creating an environmental, social, and corporate governance (ESG) report to establish a baseline and set targets to continuously make improvements in high-impact areas.
At RELEX, we know it's critical not only to support our customers as they improve their sustainability and reduce their carbon footprint but also to practice what we preach. Our overarching goal is always to make the best business decisions possible for our clients, our employees, and the planet.